Why Choose JWU for Your PA Studies?
A CNNMoney/PayScale poll projected nearly 30% job growth in the PA field over the next 10 years. Rhode Island is investing heavily in the health sciences/health care sector as a statewide driver of economic growth.
JWU's PA program, the first in the state, takes advantage of Rhode Island's strengths as an incubator: small size, high population density and an interlinked medical and education network.
Be part of that growth, while gaining a versatile skill set that can be applied to virtually all facets of the medical field, including primary care, hospitalist medicine, surgery and emergency medicine.
Deliver Humanistic, Patient-Centered Care
Maintaining a relationship of trust and caring is central to becoming a health care professional, whether your goal is to stay in Rhode Island to care for Rhode Islanders, or go where a growing career opportunity takes you.
Learn more about the philosophy of humanistic medicine at The Arnold P. Gold Foundation.
Toggle

Our State-of-the-Art Health Sciences Facility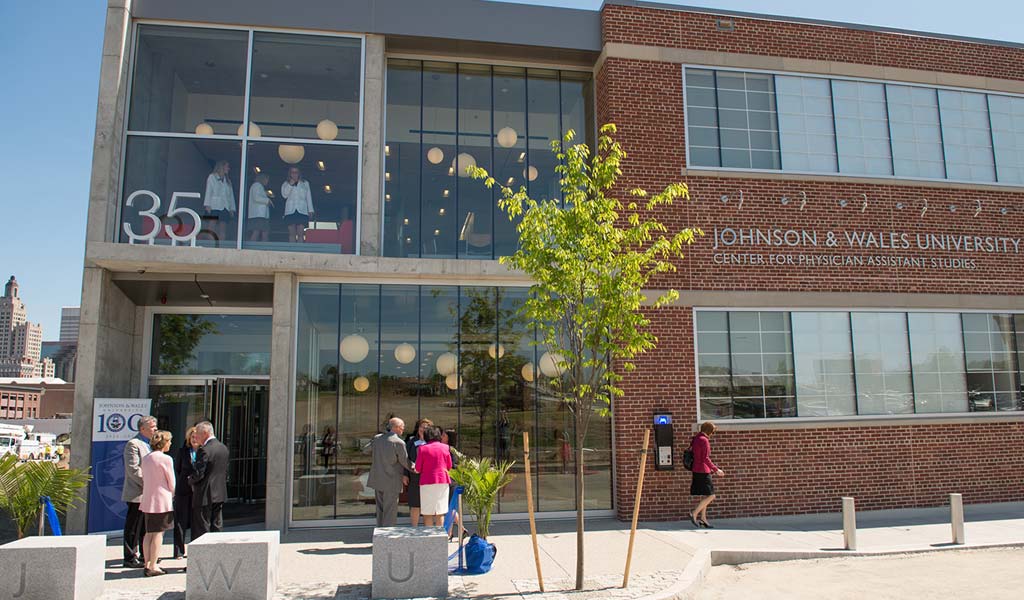 Developing the skills to become a physician assistant (PA) takes hard work, dedication — and an educational facility that meets the complex needs of this increasingly sophisticated field.
Innovative Facility in Rhode Island's Medical Corridor
The PA program is part of JWU's Center for Physician Assistant Studies, housed in an 18,000-sq. foot facility dedicated to the health sciences and located in Providence's Knowledge District.
Learning Space Tailored to the Health Sciences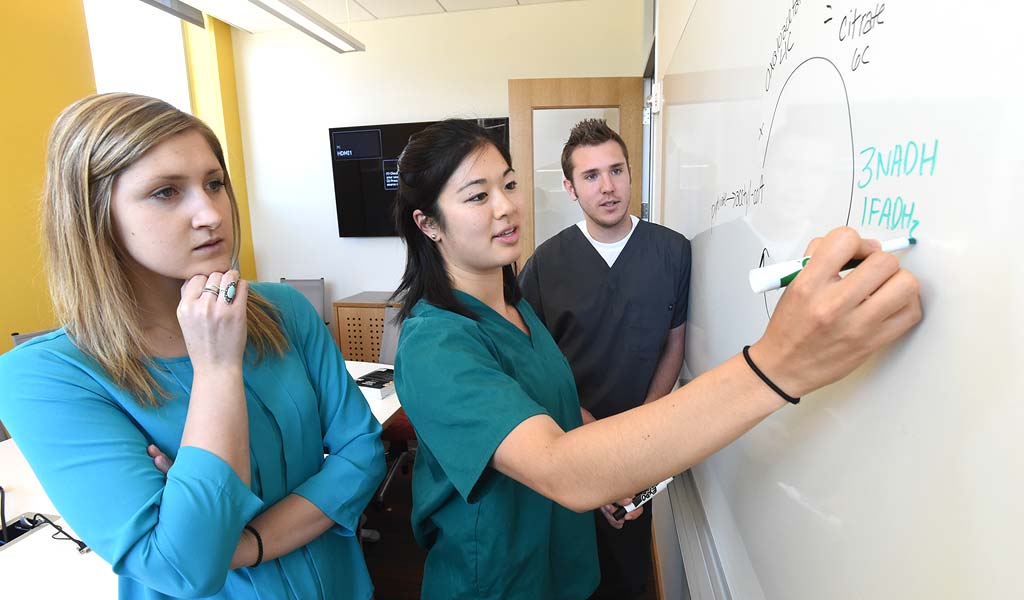 Our facility is set up to maximize information sharing, teamwork and collaboration between students, faculty and community colleagues, with:
Lecture halls with global teleconferencing capabilities and lecture capture
"Active learning" classrooms that can be easily reconfigured for group work or lectures, depending on the need
Cadaver-based anatomy lab with access to e-study guides at each dissection station
Conference rooms for small group meetings
Student lounges and study areas
Clinical practice center similar to a hospital emergency room
Building Designed for Convenience and Collaboration
The Center is designed to transition you seamlessly from morning to night — from the locker room where you can safely stash your valuables to the spacious learning commons where you can study with fellow students after hours. You won't have to leave the building unless you choose to.
Why is this important? Those first 12 months of preclinical instruction are especially rigorous, and the building will enable you and your peers to learn without interruption — whether you're studying cardiovascular systems in the anatomy lab, documenting cases in the clinical practice center or attending virtual grand rounds in our lecture hall.
Sharing classrooms and common spaces also enhances the sense of community, enabling you and your fellow students to progress through the first year as a supportive cohort.
Toggle

What is a Physician Assistant?
Imagine working side-by-side with physicians on a daily basis, helping improve care for their patients. In clinical practice, physician assistants (PAs) work as part of an integrated medical team to provide diagnostic, therapeutic and preventive health care services. In association with a supervising physician, PAs:
Take patient histories and perform exams
Order lab tests and prescribe medications
Diagnose illnesses and develop treatment plans
Counsel and educate patients
PAs serve as complementary partners to physicians and can be found in all areas of clinical medicine. The daily scope of a PA's practice can vary widely by setting, specialty and responsibilities delegated by a physician. All 50 states and the District of Columbia allow PAs to practice and prescribe medications.
Rapid Job Growth in Growing Field
A 2013 CNNMoney/PayScale ranking on the Best Jobs in America reported that the 10-year national job growth rate for PAs is nearly 30%, with $96,200 as the current median pay. Rapid job growth reflects the increased use of PAs as a cost-effective way of providing primary care.
Flexible Career Path
The PA field offers a great deal of flexibility. PAs can practice in a variety of settings, including:
physician's office or group practice
hospitals or clinics
community health centers
military hospitals and VA clinics
Many PAs work in primary care; other areas of specialization include:
emergency room (ER) medicine
hospitalist medicine
surgery and surgical subspecialties
internal medicine subspecialties
pediatric medicine subspecialties
Before joining a practice, all PAs must graduate from a nationally-accredited program and pass a national certification exam in order to gain licensure. In order to maintain national certification, a PA must complete 100 hours of continuing medical education every two years. Beginning in 2014, PAs will be required to recertify every 10 years.