Program Overview
Do you have a passion for horses and an aptitude in science? Combine both in JWU's unique Equine Science program. Use your expertise to enhance the relationship between horses and humans; improve the welfare of both equine athletes and leisure horses; and advance the science of equine anatomy and physiology. Equine Science also has the option to choose from one of two industry-specific specializations, Pre-Veterinary Studies or Equine-Assisted Activities and Therapies.
In academic classes, you'll study anatomy, physiology, nutrition, genetics and diseases, and gain practical knowledge of lameness assessment, ration analysis and preventative herd health programs.
In labs, you'll practice horse handling and the medical and farm management skills that are necessary for success in the equine industry. You'll also have the option of taking riding classes through electives.
You'll begin by learning to design a health plan that addresses the interaction between nutrition and disease, and predicts the needs of different classes of horse.
You'll identify and analyze equine behavior and apply well-chosen management and handling practices to positively impact horse growth, development, training and health. You'll also evaluate the impact of various international influences on the equine industry.
Plus you'll have the opportunity to participate in a variety of extracurricular equine activities, including seminars and clinics with nationally recognized speakers from the equine industry, and annual field trips to Equine Affaire and regional breeding farms.
You'll gain firsthand experience with horses at JWU's Center for Equine Studies, located in Rehoboth, Massachusetts, a short drive from Providence. The horses for school use are all selected for their training and temperament. Many different breeds are represented, including Dutch Warmblood, Hanoverian, Swedish Warmblood, Holsteiner, Thoroughbred, Oldenburg, Quarter Horse and Morgan.
Pre-Veterinary Studies Specialization
Want to use your Equine Science degree to apply to Veterinary School and pursue a Doctorate of Veterinary Medicine? This specialization satisfies pre-vet requirements if you want to become a veterinarian, or you can pursue future graduate studies in science, nutrition, reproduction, zoology or wildlife biology.
Equine-Assisted Activities & Therapies Specialization
The equine-assisted therapy field has taken off as individuals with different physical, emotional and/or cognitive disabilities receive the benefits that working with a horse can provide. In JWU's riding program, you can use your electives to pursue a 16-credit specialization in which you'll create a portfolio of skills and knowledge required to become an instructor-in-training (IT) with the Professional Association of Therapeutic Horsemanship International (PATH Intl.).
After graduating with this specialization, you can pursue careers in therapeutic riding instruction, therapeutic horse management, therapeutic riding program management, and equine-assisted learning and therapy.
Admissions is contingent upon you meeting the technical standards for this program. To learn more, review the JWU Catalog's technical standards.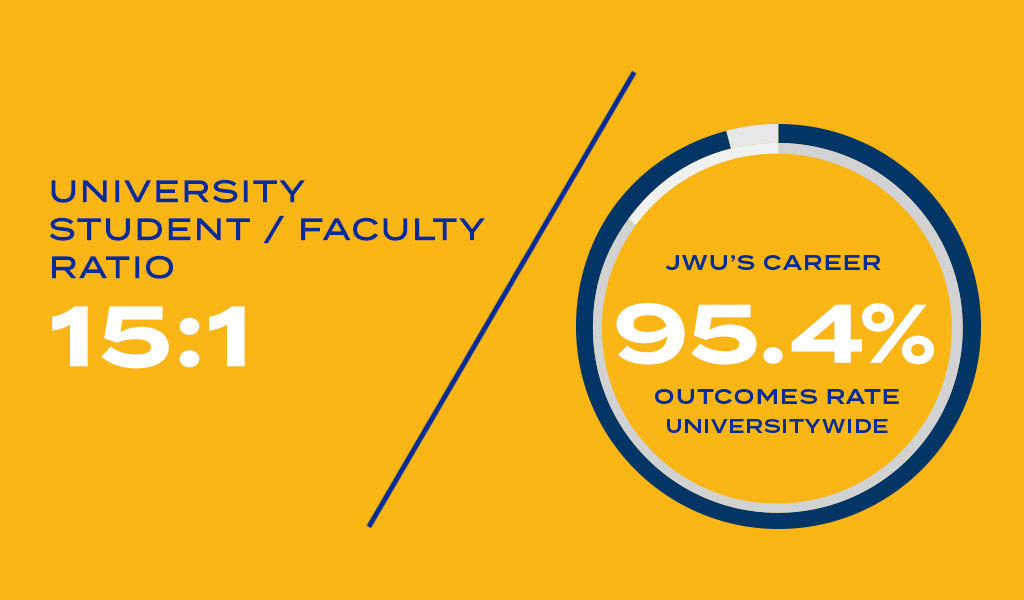 For an explanation of the career outcomes rate and other information, visit JWU Student Consumer Information.
This program is available in Providence.
---
Sample Courses
Equine Physiology and Sports Therapy
Equine Diseases
Equine Nutrition
Equine Reproduction and Genetics
General Biology
General Chemistry
In addition to classes, free elective credit can be applied to a number of options such as Directed Experiential Education (DEE), internship, minor or study abroad. You are encouraged to contact an advisor before scheduling free elective credits.
Explore the full range of courses via the JWU Catalog:
---
Career Possibilities
Some professions may require additional study, background checks, certifications, licenses, exams and/or experience as required qualifications for employment. Students are responsible for verifying that they can meet the employment requirements of potential employers.
Equine Geneticist

Animal Health Technician

Equine Reproductive Specialist
Equine Nutritionist

Equine Scientist

Equine Research Technician
Equine Pharmaceuticals Sales Representative

Veterinarian