Welcome CCRI Transfer Students!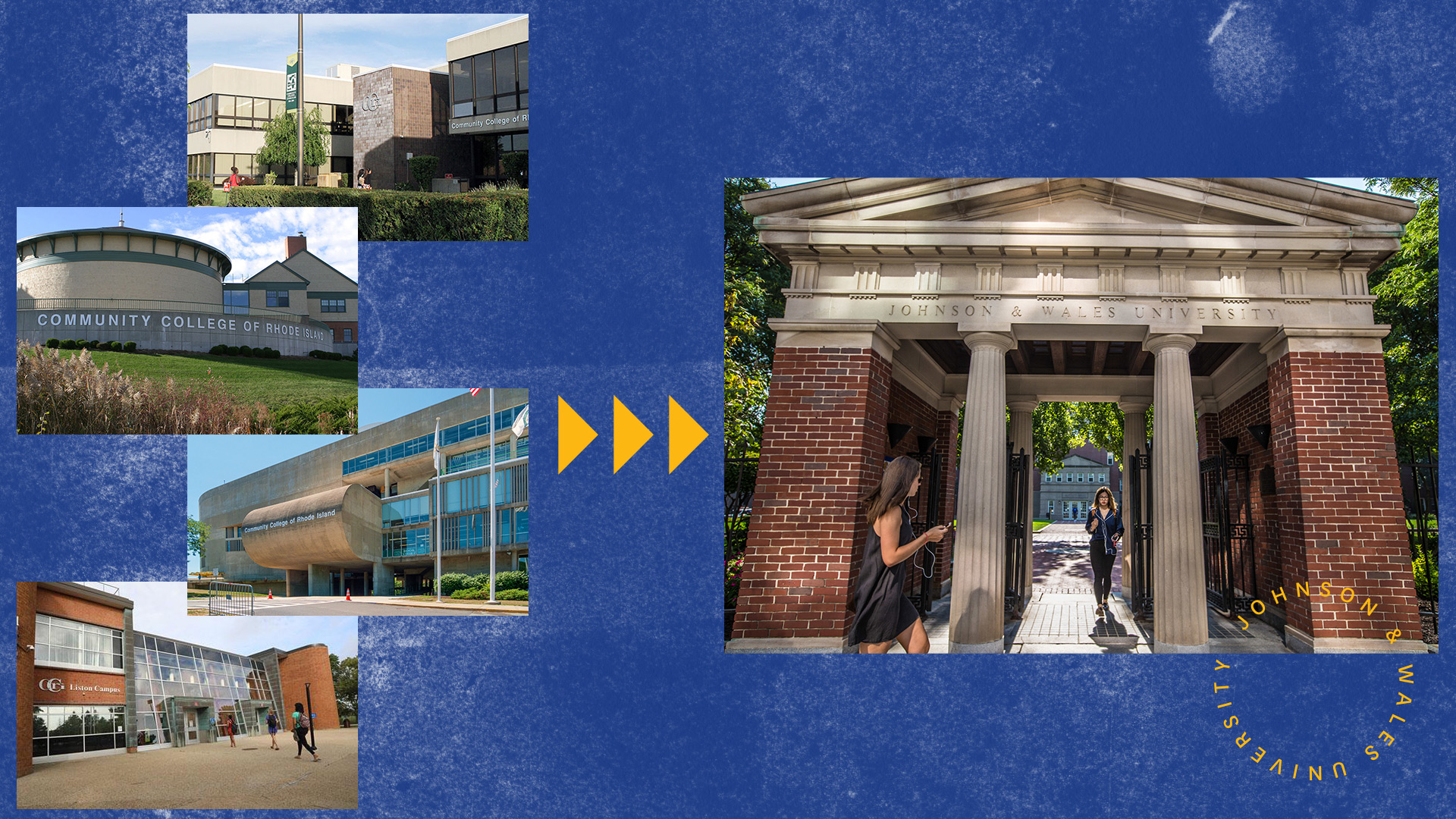 An affordable private education is waiting for you — come experience the JWU difference.
We're so glad you're interested in transferring to Johnson & Wales! We know that CCRI students like you are in school to work hard, further your knowledge and skills, and get an education that has value — which is why JWU is the perfect next step.
A JWU education is not only affordable, it's an investment that pays off. Our Career Outcomes Rate is 95.4%* and has continued to be historically higher than the national average. This rate not only reflects the hard work of our students, but it's also proof that our experiential approach to education works.
We prepare students to enter the industry right out of the gate by teaching the skills that matter and providing hands-on courses and internships to gain the experience they need. Our Experiential Education & Career Services office also supports students with resume-building workshops, mock interviews, and career fairs to find internships and network.
Which CCRI credits will transfer?
JWU has very liberal transfer policies to help students maximize the number of credits that transfer. We have a Transfer Evaluation System (TES) that allows you to see what JWU courses are equivalent to your CCRI courses, and you can also work directly with our Student Academic Services team to ensure that as many of your credits transfer as possible. 
Explore the Transfer Evaluation System
In addition to credits earned at CCRI, we also accept ACE (American Council on Education) recommended credits and CLEP/AP/DSST exam credits. Plus, our Guaranteed Admission Program (GAP) provides a seamless transfer experience into certain programs for qualifying students.
Explore the Guaranteed Admission
Transfer Articulation Agreement for Cybersecurity Students
If you're currently completing an associate degree in Cybersecurity at CCRI, you can transfer to JWU to earn your bachelor's degree in Cyber Threat Intelligence & Defense. You will need to contact the CCRI Advising and Counseling Center to make sure you're on the right track for an easy transition to JWU. Then, if you meet all academic prerequisites, you can have your academic transcripts evaluated by an academic counselor at JWU to see which classes are eligible for transfer credit. Plus, depending on your GPA, you might also qualify for scholarship awards.
If you need additional assistance, please schedule an appointment with a Transfer Representative or contact us using the information below.
Who can answer questions about transferring to JWU?
We offer one-on-one virtual appointments with our transfer experts. Appointments can be scheduled Monday-Friday from 10am-4pm EST.
If you have questions about transferring to the Providence, contact:
Lori Barden
Phone: 401-598-2342
Email: Lori.Barden@jwu.edu
---
What is the process like for transferring to JWU?
One word: Easy! Begin the transfer process by starting your application. Our Admissions Portal outlines all the additional documents you'll need and provides a convenient place to upload them.
If you're still on the fence about applying to transfer to JWU, we will gladly review your prior college credit and provide an unofficial evaluation before you even apply. All you'll need to do is email us your unofficial transcripts.
Get your unofficial transfer evaluation
CCRI students should consider transferring to JWU because JWU offers the help students seek and need to succeed in their future careers. Their class sizes are intentionally small which allows the professors to create a stronger connection with every student. Denisses Cortorreal '20, MBA '22 candidate
Read more about Denisses Cortorreal's transfer experience
Explore Johnson & Wales
In-person or online — we have plenty of tour options, informational events, and ways to explore JWU. Let's get started!
Schedule a Campus Tour Attend a College Night Explore From Home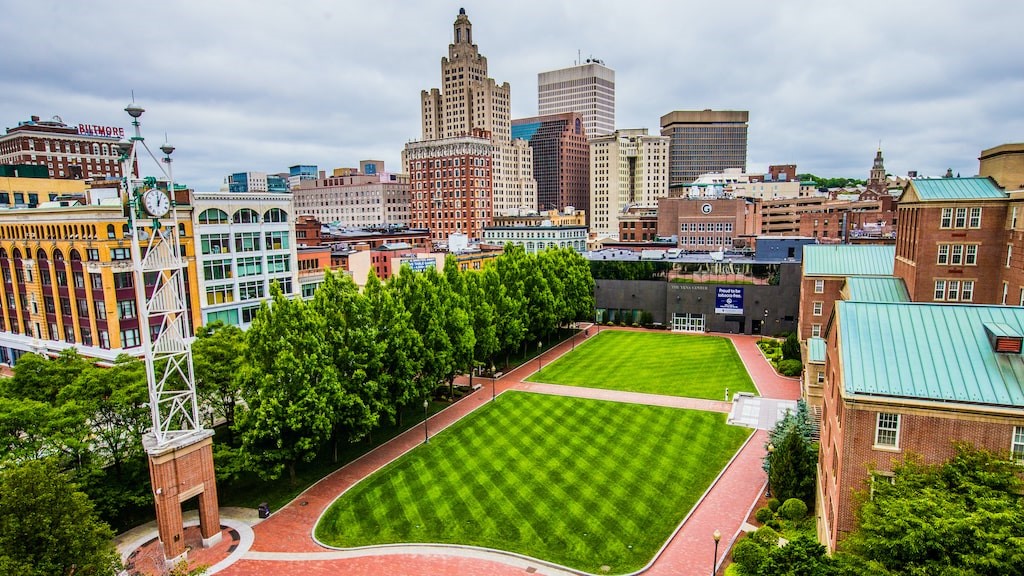 Our Providence Campus is home to more than 5,000 Wildcats who enjoy the thriving art, entertainment, and food scenes found in the capital city. With 100+ student-run clubs, NCAA Division III athletics, and fully-equipped residence halls, life at our flagship campus is non-stop. Schedule a tour of our campus today or start exploring from home!
What's there to do in Providence? Read more in 8 Reasons JWU Loves Providence.


---
General Transfer FAQs
Toggle

What are the criteria for transferring credits?
Transfer credit evaluations are based on previous college work as it relates to your intended field of study. Credit is usually granted for courses completed with a grade of "C" or better (with a numeric value of 2.00) at another accredited institution (recognized by the U.S. Department of Education). Grades of "pass" are also acceptable for transfer if credit was awarded (and a grade of "P" has the numeric value of 2.00 or greater). Credits earned in developmental and remedial courses or CEUs are nontransferable.
Toggle

What financial information do I need to send?
Are you entering in any term other than September? If so, you must submit a financial aid transcript from every school you attended after high school — even if you did not receive aid at the other school(s). Contact the financial aid office at each school and request that they forward an official financial aid transcript to JWU's Student Financial Services.
Got More Questions?
Connect with JWU Providence Admissions to get all your questions answered and get your JWU journey started! We're always here for you.
---

*Career outcomes information is a nationally recognized way to calculate student success. The Career Outcomes Rate reflects the percentage of students who are either employed, continuing their education, enlisted in military service, or performing voluntary service within six months of graduation.