PRESS RELEASE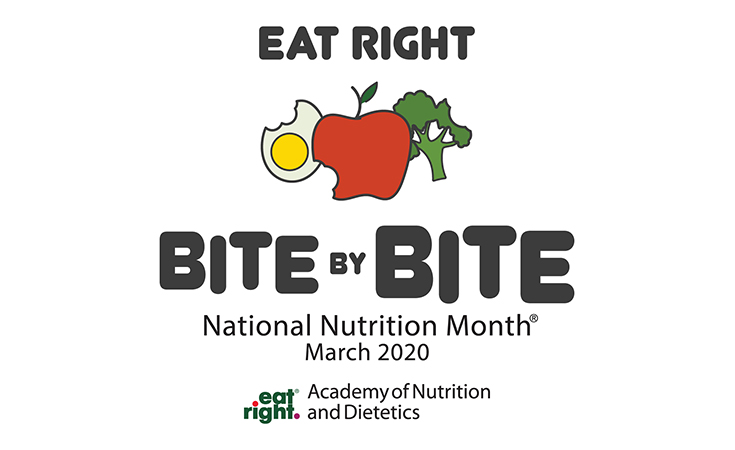 PROVIDENCE, R.I. — March 10 2020 – March is National Nutrition Month®, an annual campaign created by the Academy of Nutrition and Dietetics to encourage people to make informed food choices and develop sound eating and physical activity habits. For the students and faculty of the Johnson & Wales University bachelor degree programs in Culinary Nutrition and Dietetics and Applied Nutrition, every month is Nutrition Month. 
The second Wednesday of March is celebrated as Registered Dietitian Nutritionist Day to commemorate the dedication of registered dietitian nutritionists as the leading advocates for advancing the nutritional status of Americans and people around the world. This year's celebration is March 11. 
The JWU faculty chefs and registered dietitian nutritionists have tips for National Nutrition Month 2020: 
Kara J. Cucinotta, RD, CNSC, LDN
Assistant Professor, Nutrition & Dietetics 
Simple variations to your diet. Getting enough fruits and vegetables can be daunting, but incorporating them into your meals is a great way to add flavor, texture, and health benefits: 
Cauliflower is versatile and its mild flavor blends well with other flavors. Steam and purée it, then add to mashed potatoes, scrambled eggs or quiche.
Canned pumpkin puree is a great addition to baked goods. Add it to whole grain pancakes, waffles, and muffins.
Finely chop and sauté aromatic vegetables like onion, garlic, celery, carrots and mushrooms and add to your favorite main dishes, like meatballs, meatloaf, taco meat, and casseroles.
Plan Ahead. Time management and planning are key components for healthy eating: 
Plan your weekly meals with family members, and jot down the ingredients you'll need before your visit to the grocery store.
Get more out of your ingredients by overlapping them. Prep and store for a few night's dinners or lunches to-go. Serve a rotisserie chicken and steamed carrots on Monday. Shred the leftover chicken breast for quesadillas on Tuesday and add the extra chopped carrots to soup on Wednesday.
Taco meat, meatballs, vegetable purées (in ice cube trays), and chopped vegetables freeze and reheat very well.
Todd Seyfarth '01, RDN
Associate Professor, Department Chair, Nutrition and Dietetics 
Going green is easy as 1, 2, 3. Reduce your meat consumption and increase your vegetable intake by roasting vegetables and quickly pulsing them in a food processor (especially with meaty textured foods like mushrooms) and then mix them into your favorite ground meat recipes.Usually a ratio of one-part vegetable puree to three-parts lean ground meat will work for burgers and meatloaf, and a one-part puree to a two-part lean ground meat for chilies and taco filling. 
Have your cake and eat it, too. Going to the gym once won't make you healthy and skipping the gym once won't make you unhealthy. A lifestyle of frequent movement, intermixed with moderate to high intensity exercise can be better for overall health. Proper nutrition works on the same principles. Instead of snacking on junk food, incorporate unrefined plant foods, especially whole fruits and vegetables throughout the day. If you are getting your recommended intake of fruits and vegetables, you can take an occasional night off from your diet to indulge on a guilty food habit. Life is too short to never treat yourself to a slice of cake, as long as the foundation of your diet is solid. 
Barbara Robinson, CNSC, LDN
Associate Professor, Culinary Nutrition
The MIND Diet. Are you getting "brain strain" from trying to decide which diet plan is the best? Give your mind a break with the MIND diet. The MIND diet stands for  the Mediterranean diet and the DASH (Dietary Approaches to Stop Hypertension) diet. The MIND diet offers proven benefits of both its namesakes in the areas of weight management, cardiovascular disease, and type 2 diabetes. In addition, the MIND diet offers additional benefits for brain health. The MIND diet consists of unprocessed and largely plant-based foods, is high in fiber, promotes fish and poultry over red meats, and moderation with dairy, sweets and fried foods. 
About JWU
Founded in 1914, Johnson & Wales University is a private, nonprofit, accredited institution with more than 8,000 graduate, undergraduate and online students at its campuses in Providence, Rhode Island and Charlotte, North Carolina. An innovative educational leader, the university offers undergraduate and graduate degree programs in arts and sciences, business, engineering, food innovation, hospitality, nutrition, health and wellness. It also offers undergraduate programs in culinary arts, dietetics and design. JWU's unique model provide students with the personalized attention, academic expertise and industry connections that inspire professional success and personal growth. The time students spend at JWU is nothing short of transformative, as demonstrated by career outcomes, expected earnings and economic mobility rankings. The university's impact is global, with alumni in 125 countries pursuing careers worldwide.
MEDIA CONTACT Miriam Weinstein, director of communications & media relations, miriam.weinstein@jwu.edu, 401-598-1157. Follow @JWUnews.