As a college student, Associate Professor Jeffrey Longo had a career in mind but wasn't sure how to get there. "I grew up around sports, I played all my life, I was part of marketing our college team. I had this inclination that I wanted to do something with sports but didn't really have any idea what that meant or what the steps might be." Longo not only figured out those steps for himself, he now teaches college and high school students how to do the same.
From Athlete to Industry Professional
Growing up in New Jersey, Longo played hockey in high school and then for Rutgers while earning a B.S. in psychology and communications. When he realized he wasn't going to be a professional hockey player, he had to figure out his next move. A teammate and friend who was interning for the New York Rangers offered to help Longo get an internship with the team. Longo was unsure, so his friend pointed a few things out to him: he had been around sports his whole life, he knew Madison Square Garden well, and the Rangers just signed Wayne Gretzky, "the most famous player in the history of the game," recounted Longo.
"From day one, I was hooked … I understood I could make a career out of this thing I loved." Longo completed a nine-month unpaid internship with the Rangers' public relations department. He admits that he "fell into it" and didn't know what his career might have looked like without that opportunity.
Over the years, Longo landed several high-level roles, including president of the AHL's San Diego Gulls and Charlotte Checkers, vice president of marketing/community development for the NHL's New Jersey Devils, and president/owner of the Fayetteville Marksmen (Southern Professional Hockey League).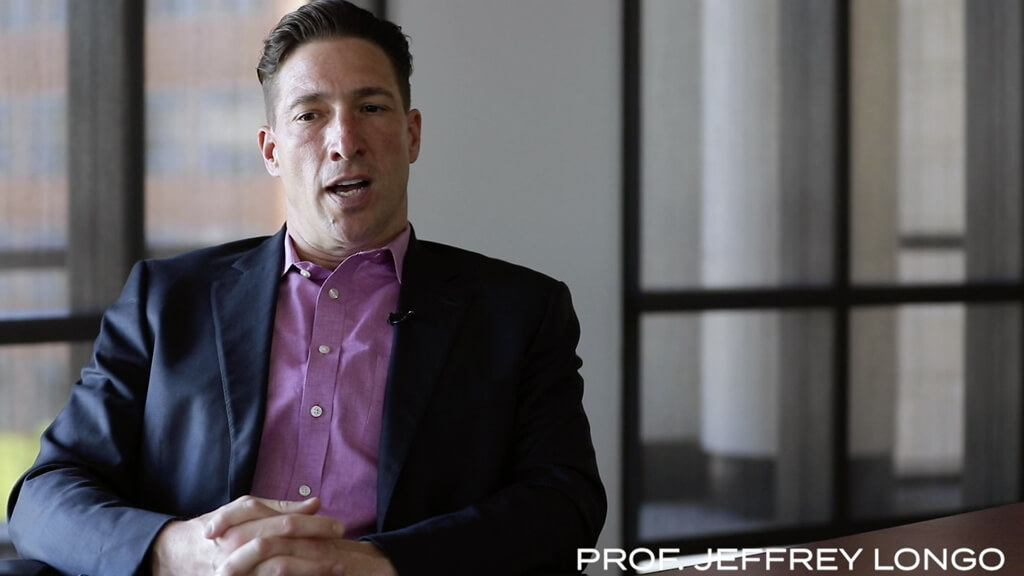 Making the Move to Teaching
"When I go back to my very younger self, I'd always had this inclination that I wanted to teach, and teach in college, specifically. Had I not interned with the Rangers, I would have gotten my psychology degree, then my master's and doctorate. That was the plan in my head."
After working long, hard hours in the sports industry for 15 years, Longo again set his sights on teaching. He contacted a former JWU colleague and said, "I want to make a career change, and I want to be a part of launching the careers of the next generation." That began his transition into teaching. From there, Longo started visiting JWU Charlotte classes as a guest speaker while also working on his master's degree.
Now, after teaching courses for JWU's Sports, Entertainment, Event — Management program (SEEM) for 8 years, Longo says the thing he loves most about it is the students. "They're curious, they're intentional, they're hard-working. Many students on our campus are working in addition to being students and learning to juggle that, not just to get it done, but to get it done well; that's a real strength of our student population. That's part of the Johnson & Wales' brand — we're experiential education in every way."
Focusing on students interested in the sports industry, Longo says, "They know they want to do something in sports, but they don't really know what that means. I walk them through that journey and provide an awareness of what the different roles are. They learn about positions in community relations, marketing, sales, operations — all of those different areas that they've either never heard of or didn't understand what they are."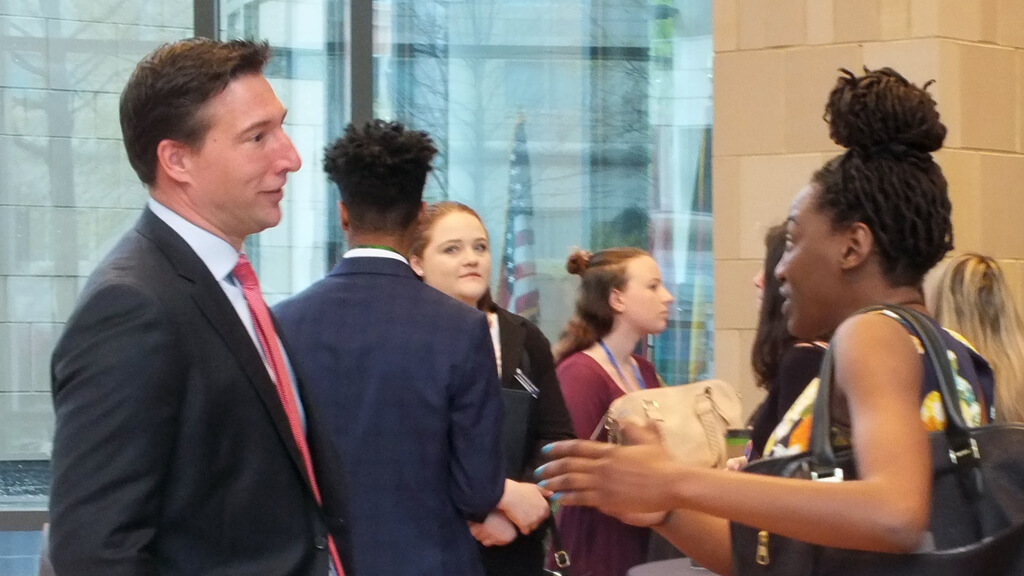 Reaching Students Before College
In 2019, Longo and Associate Professor James Patrick Stack decided to educate students interested in sports-related careers even before they attend college. They wanted students to know what their career opportunities are and how to go after them. Together they founded the nonprofit Sports Biz Camps. "Our idea was to start educating students earlier in the process, as high school students, and to be an upstream solution by making them aware of what these careers look like. By the time they get to Johnson & Wales or another university, they've got a better understanding of what that career path might look like."
Sports Biz Camps is held on the Charlotte Campus and open to high school students in the Charlotte area. JWU SEEM students help with the event and share their knowledge of the sports industry with the younger students. The Camps include visits to actual sports properties (such as the Bank of America Stadium) to hear from a panel of the professionals such as Charlotte Panthers' employees, or heading over to the NASCAR Production studios to see what happens there first-hand.
After the first year of Sports Biz Camps, Longo and Stack realized there is a critical issue they needed to focus their attention on. "Myself and Professor stack come from this privileged background where we had access to sports professionals in a way that a lot of students do not. If you're not aware of what the jobs look like and you don't have access to anyone who could help you, or if the people in that role don't look like you and don't sound like you, how do you have any true model for what that might look like? Very quickly, our mission changed to level the playing field for people who don't have the same awareness and access."
The "on-ramp" for students through Sports Biz Camps is Career Exploration Camp where students hear from industry professionals. The second part is the Rising Pro Certification, for which students work in teams on consulting projects for professional sports properties. For example, a team is assigned to a Washington Capitals' employee who helps the students look at social media platforms for the NHL or the NBA. Then, students work on their soft skills such as preparing for a job interview during the Insights Expo. Next, the top 100 students are invited to a career fair with industry professionals who interview them for potential positions and provide feedback on what they did well and how they could have done better.
"We want to be there for the students all the way through. They come in as high school students and are with us in various types of programming for four years until we can take them through the 'off-ramp' by helping them get a job in the industry. We want to be there for them, helping them develop skill sets through the entire process, from high school through their first job."
In 2020 Sports Bizz Camps went virtual due to the Covid-19 pandemic. In a twist of fate, it served 1,000 students from 37 states. The Camps will continue to be virtual for 2021, but will be held both virtually and in-person at JWU's Charlotte Campus going forward.
"Nobody wants to work more for the Charlotte Hornets than the kid who either grew up in Charlotte or went to a university in Charlotte. You need the hyper-local aspect and the in-person aspect if you're trying to develop this relationship and say 'wow' I just met somebody who has the same background as me."
The best part of Sports Biz Camps? It's offered at no cost to students thanks to several sponsors and outside funding, including sports properties, which want the industry to be more diverse, says Longo, hoping to have more females and more persons of color. "They're seeing us as part of the solution."