JWU's Occupational Therapy Doctorate curriculum, which culminates in a 14-week community-based doctoral capstone experience and related project, is designed to transform students into professional practitioners able to blend evidence, creativity and ingenuity into practice.
Through mentorship with our experienced faculty, you will set personal goals that enhance your professional growth.
The doctoral degree's coursework includes extensive education and training in normal development, structure, function and impairments in body systems and body functions, and participation problems, concerns and solutions. There is also work focused on advanced practice, including clinical reasoning, occupational therapy theory, evidence-based practice, research, and advocacy and leadership.
What is unique about JWU's entry-level OTD program?
JWU's entry-level OTD program has many unique features. They include:
It focuses on examining the needs of individuals and populations within the community and emphasizing the valuable connections with multiple JWU colleges (including the College of Health & Wellness, College of Food Innovation & Technology, and the College of Engineering & Design) to best serve societal needs in an interprofessional manner.
Level I fieldwork and lab experiences directly in the community and within emerging practice areas in the state of Rhode Island.
Experienced and nationally recognized faculty teaching in a state-of-the-art facility that creates a stimulating environment for student learning.
Coursework and doctoral capstone components that are integrated into a curriculum that's focused on interprofessional aspects of occupational therapy that bring the student outside the realm of health care and into a community rich with opportunity.
Our fieldwork program matches students with a variety of placements both within RI and nationwide. Each student is assessed individually and placed based on strengths, interests, and geographical choice. Fieldwork sites are NOT selected with a lottery system and students should expect to be placed in at least one setting of their choice.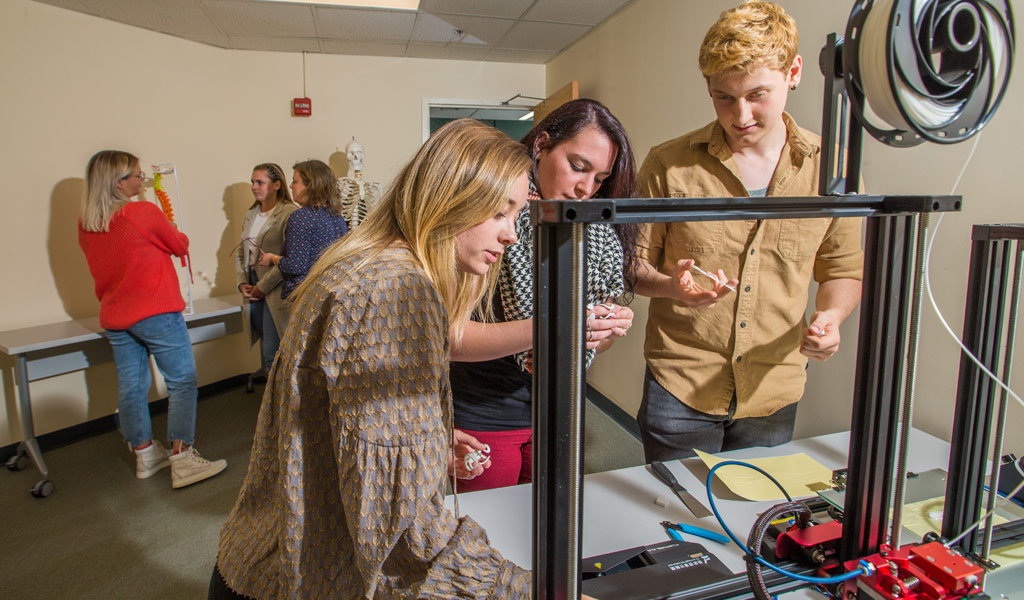 More information on our unique events can be found by following JWU OTD on Facebook or Instagram.
---
Catalog & Course Listing
Explore the full catalog course listing:
Explore curriculum, course descriptions and course credits:
Toggle

Program Delivery & Academics FAQ
When does the entry-level OTD program begin? JWU's entry-level OTD program begins in the summer semester (June).
Is the program full time? Yes, the program is an accelerated 3-year, year-round, full-time program offered on campus in Providence, Rhode Island. Scheduling is set to ensure a work-life balance to both the students and faculty. Courses generally meet between 9am and 4pm, Monday through Thursday. In some semesters, students have interprofessional education experiences or fieldwork on Fridays.
What is the difference between an Entry Level OTD and a Master's Program? Like entry-level master's programs, entry-level doctoral programs prepare graduates to enter the profession as new practitioners. The doctoral degree offers additional semesters of study focusing on clinical practice skills, research skills, administration, leadership, program and policy development, advocacy, education, and theory development.
According to ACOTE Standards, all doctoral programs must require their applicants to hold a baccalaureate degree or higher prior to admission, whereas that is not a requirement for the master's programs.
Entry-level doctoral programs require a 24 weeks of Level II fieldwork experiences, as well as an additional experiential Capstone component (14 weeks) and culminating project. The experiential Capstone component facilitates the development of advanced skills beyond the generalist level in one or more of the following areas: administration, leadership, program and policy development, advocacy, education, and theory development. (AOTA Commission on Education, 2015)
What is the added value of the entry-level OTD as compared to the entry-level Master of Science (MS) degree? There are greater expectations for entry-level doctoral student outcomes related to technology; program development; staff development; synthesis and practice of advanced knowledge; and demonstrated competency in clinical practice skills, research skills, administration, leadership, program and policy development, advocacy, education, or theory development. (AOTA Commission on Education, 2015)
What is the difference between an entry-level doctoral program and a post-professional doctoral program? An entry-level doctoral program is for those students who have a baccalaureate degree in any area of study and want to pursue further education to become an occupational therapist. A post-professional doctoral program is for occupational therapists who want to advance their skills.
Who should I contact if I have additional questions? Contact JWU Graduate Admissions at 401-598-1015 or gradpvd@admissions.jwu.edu, or the Occupational Therapy Doctorate program at 401-598-1352 or Brittany.Gray@jwu.edu.