Hands-on learning is a cornerstone of a JWU education, and the university's dynamic lab spaces and career-focused classrooms are designed to fuel students' intellectual curiosity.
Explore our learning labs and other immersive spaces below:
Providence
Advertising Lab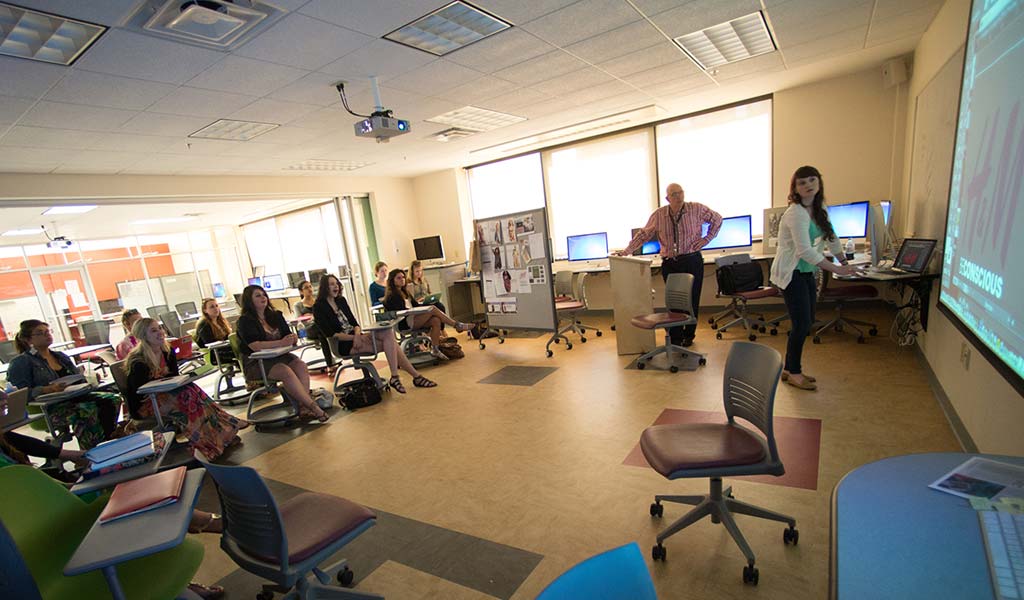 The secret to launching your advertising career? Working on real campaigns, before you graduate. Building your advertising portfolio with campaigns for real clients. Use the industry's latest tools in JWU's lab to:
JWU's Advertising Lab is where students hone their real-world skills in marketing strategy, copywriting, art direction and where they put all those skills together to develop, coordinate and launch campaigns.
Students use the latest technology to:
Film ads
Record commercials using SoundBooth
Design campaigns with InDesign and PhotoShop
Brainstorm and test ideas
Collaborate with other students who are just as obsessed with advertising
---
Bigelow Tea Classroom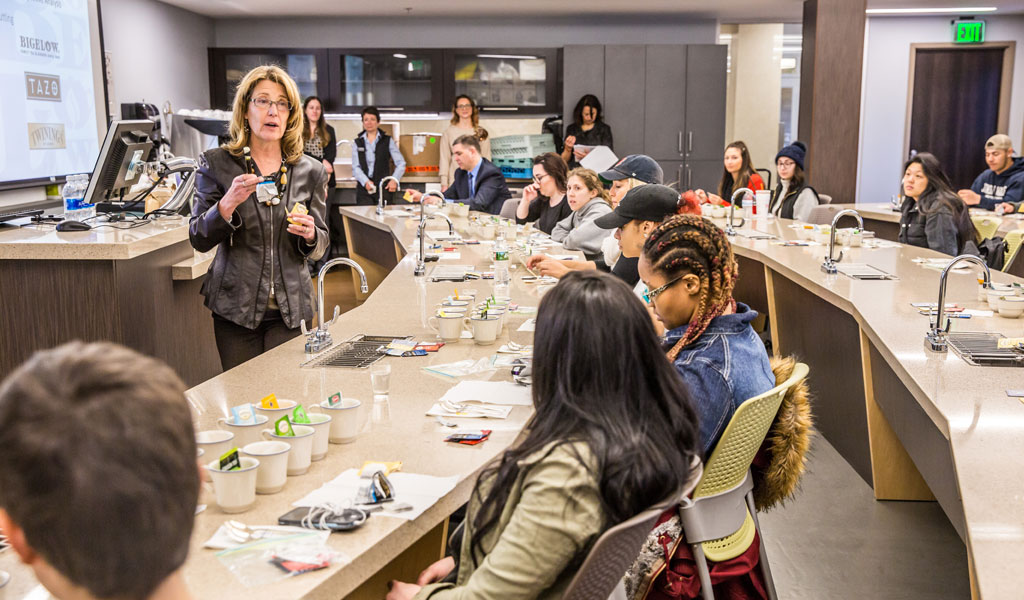 The Bigelow Tea Classroom is primarily, though not exclusively, used for Beverage Appreciation (FSM 2055), a core course in Food & Beverage Industry Management 2+2 where students learn the techniques of sensory perception, how to conduct professional flavor profiles, and how to pair food with all types of beverages. Starting with water, tea, and coffee, students then advance through to beer, wine and spirits as they build their analytical vocabulary around beverages.
Through tastings, coursework and projects, students gain an understanding of strategies to effectively manage, market and set standards for beverage operations. The class is also augmented with visits from industry experts like Kayla Gagne '12, a coffee expert and buyer, and Cindi Bigelow '19 Hon., president and CEO of Bigelow Tea.
---
Bistro 61
Bistro 61 is a laboratory in the form of a working restaurant. Advanced Food Service Operations Management (FSM 4061) is taught within Bistro 61; this upper-level capstone course concentrates on integrating critical competencies of management in a small food service setting. Emphasis is placed on menu development, marketing, staff scheduling, production planning and implementation, service, and fiscal accountability.
In real time, a team of students manage lunch and dinner service for guests — and are responsible for every detail, from the service to the food.
As part of the students' learning process, Bistro 61 guests then provide them feedback on their work. It's a full-circle educational experience that allows students to apply their front- and back-of-house knowledge in a fast-paced setting that mimics a full-service environment.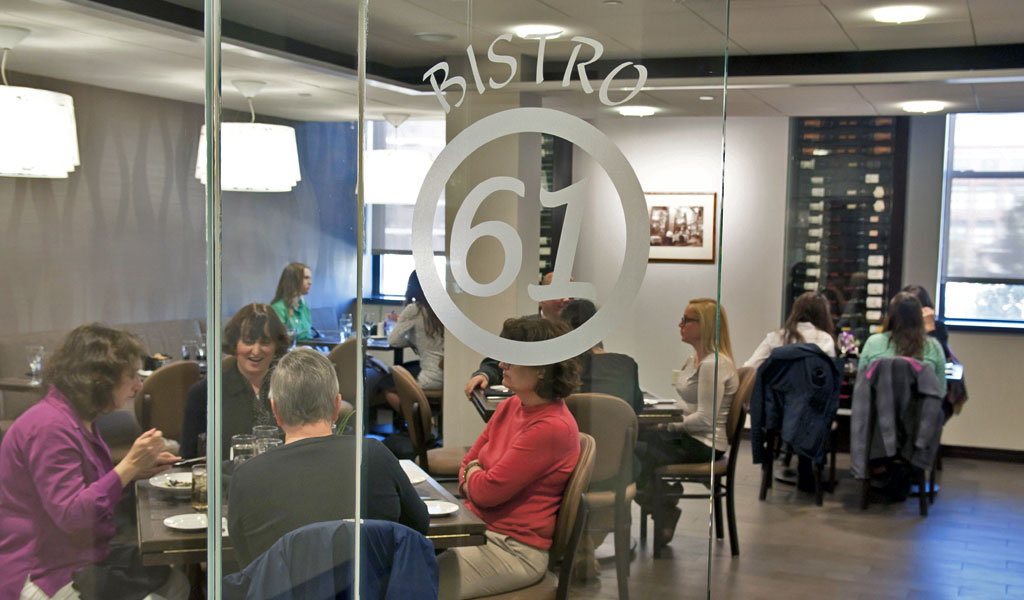 ---
Center for Media Production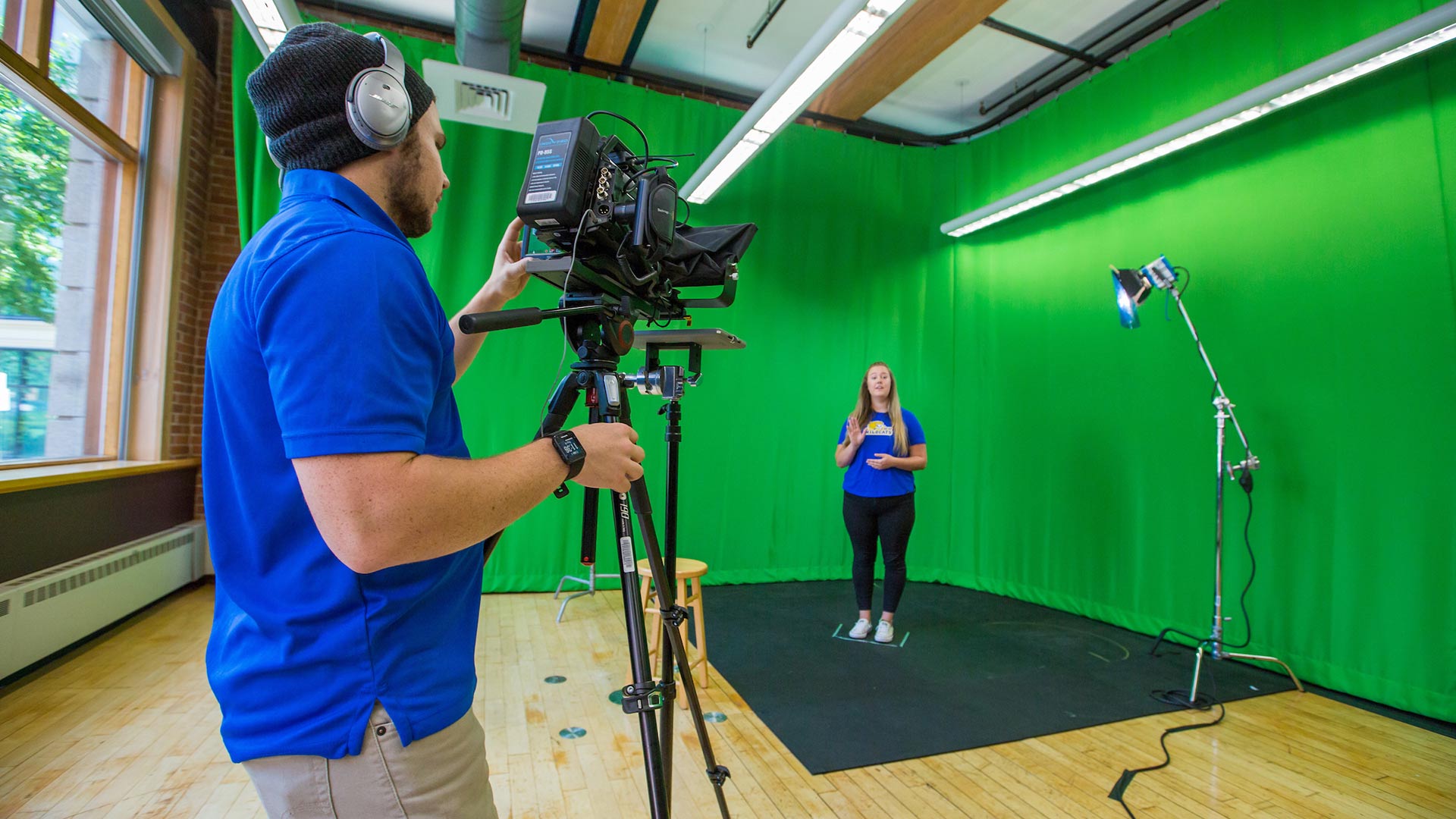 An arsenal of high-end video and photo equipment, two light-controlled studios, a soundproofed podcast studio, two editing suites, a writer's room and 24 powerful Mac Pro work stations — these are just some of the features that JWU's Center for Media Production has to offer.
The Center functions as a classroom, learning laboratory and meeting space for Media & Communication Studies students. There's a writer's room for drafting ideas, editing suites that are perfect for group work and the increased number of Mac Pro computers ensure that every student has a work station during class.
Moveable green screens and blackout curtains can provide one large studio space or two smaller individual spaces. Light-controllable shades on the windows provide options for lighting. The 4k projector and projection screen are perfect for classroom presentations or screening films.
---
Center for Physician Assistant Studies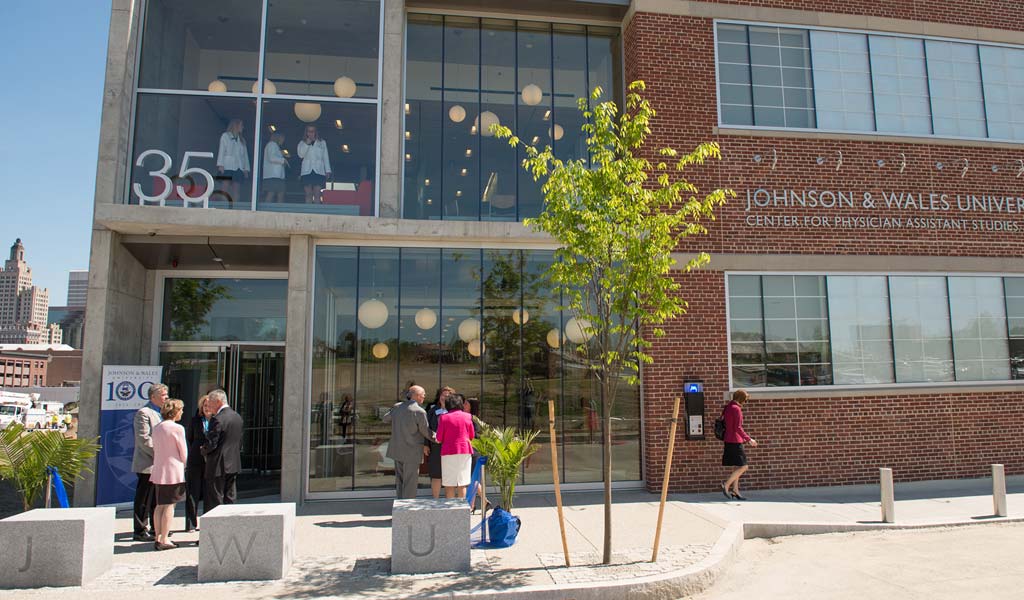 JWU's 18,000-sq. foot facility is designed to maximize information sharing, teamwork and collaboration between PA students, faculty and community colleagues, with:
Lecture halls with global teleconferencing capabilities
Active learning" classrooms that can be easily reconfigured for group work or lectures
Cadaver-based anatomy lab
Clinical practice center
Conference rooms, student lounges and study areas
The building is completely dedicated to PA studies — meaning that you won't have to run from one classroom building to another during that busy first year. Instead, you'll be able to focus and learn without interruption, whether you're
Studying cardiovascular systems in the anatomy lab
Documenting cases in the clinical practice center
Attending virtual grand rounds in our lecture hall
---
Criminal Justice Lab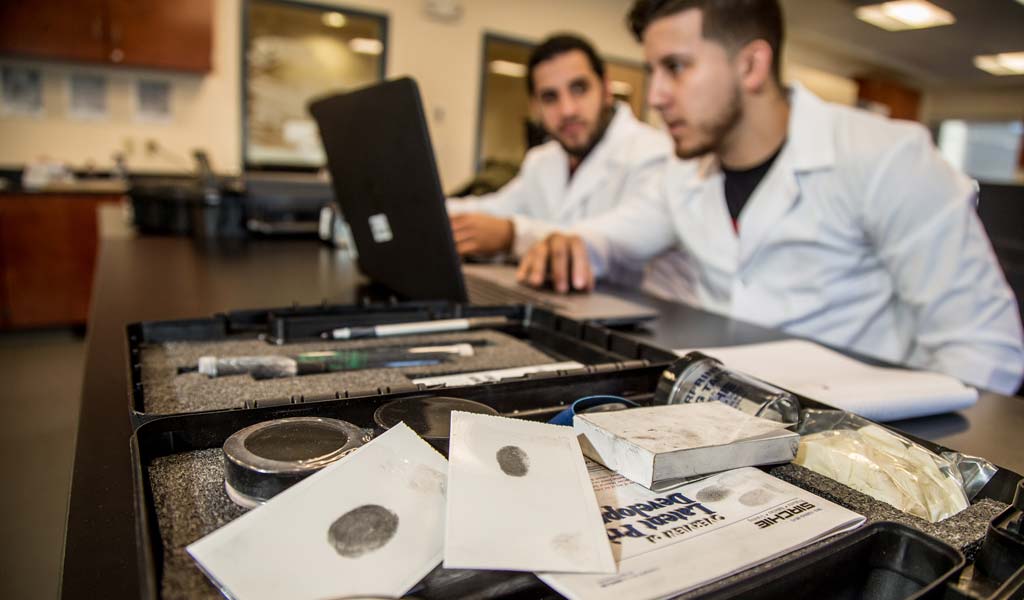 With a state of the art crime lab and crime-scene staging room, JWU Criminal Justice students have access to a wide range of forensic equipment that allows them to learn about evidence collection; criminal procedure; blood spatters and bullet trajectories; fingerprint and footprint analysis; forensic analysis and techniques; and the latest techniques for processing evidence, analyzing data and conducting research.
As part of the curriculum, students also delve into:
National security issues, including cyber-crimes and terrorism
Criminal law
Law enforcement procedures
Prep for career in law enforcement, including:
Local, state and federal police agencies
Court administration
Probation/parole officers
Corrections
Private security and loss prevention
Social services providers
---
Cuisinart Center for Culinary Excellence (CCCE)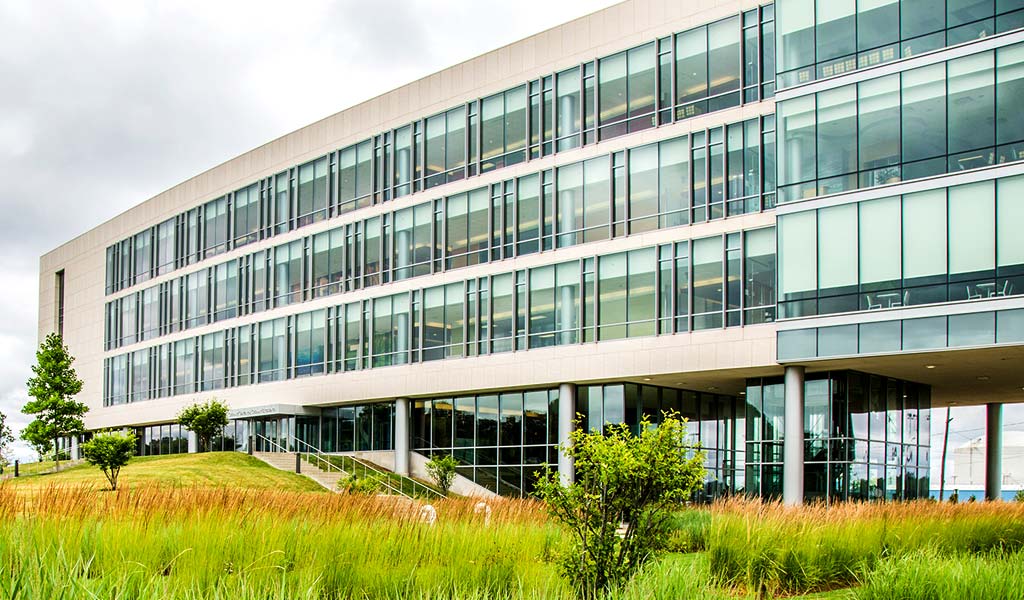 Located on JWU Providence's Harborside Campus, the CCCE's wide range of production environments and working labs are ideal for learning the craft, science and business of culinary arts, including: 
30 teaching labs and classrooms
9 hot kitchens
3 dining rooms
2 garde manger
2 bake shops
Artisan bread lab
7 pastry and chocolate labs
2 meat-cutting labs
Storeroom, shipping and receiving area
Oenology wine lab
Microbrewery
Mixology lab
The CCCE also supports JWU's commitment to social responsibility; the building has been awarded LEED® Gold certification by the U.S. Green Building Council (USGBC) for energy and material use and for incorporating a variety of other sustainable strategies.
---
Delaware North SEEM Lab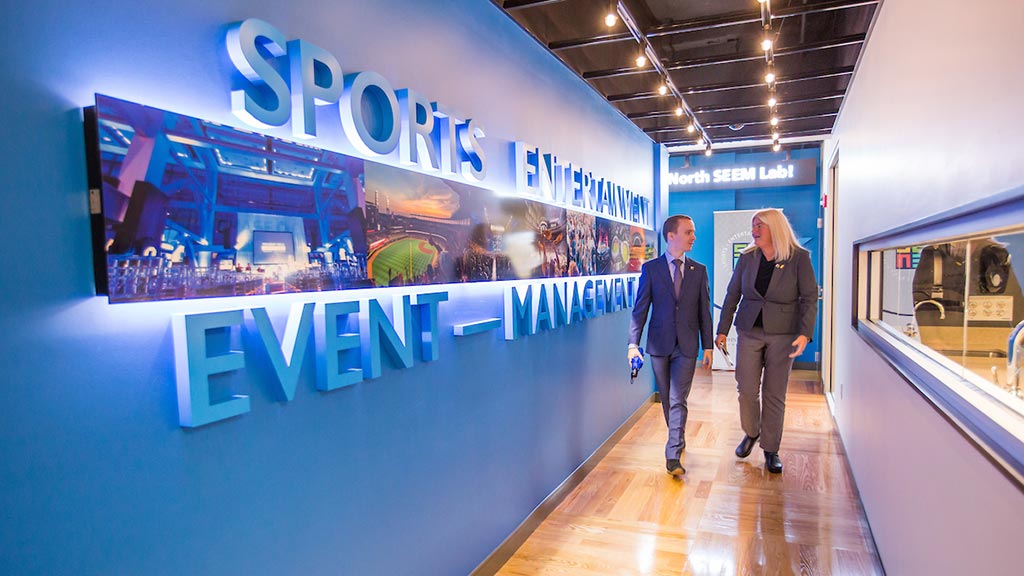 In addition to being the Official Education Partner of Delaware North, TD Garden and the Boston Bruins, JWU also teamed up with Delaware North — a global leader in food service and hospitality — to design our beautiful Sports, Entertainment, Event — Management (SEEM) Lab to mimic a real industry setting.
Modeled after a luxury suite in TD Garden, the lab features a 20-foot wide interactive video screen and a sleek conference room with beverage fridges, warming plates built into solid quartz countertops, and elegant sliding glass doors that provide an open feel while still offering an enclosed space for smaller meetings or teleconferencing. It's a creative space that inspires students because it actually makes them feel like they're in a real industry setting.
---
Finance Center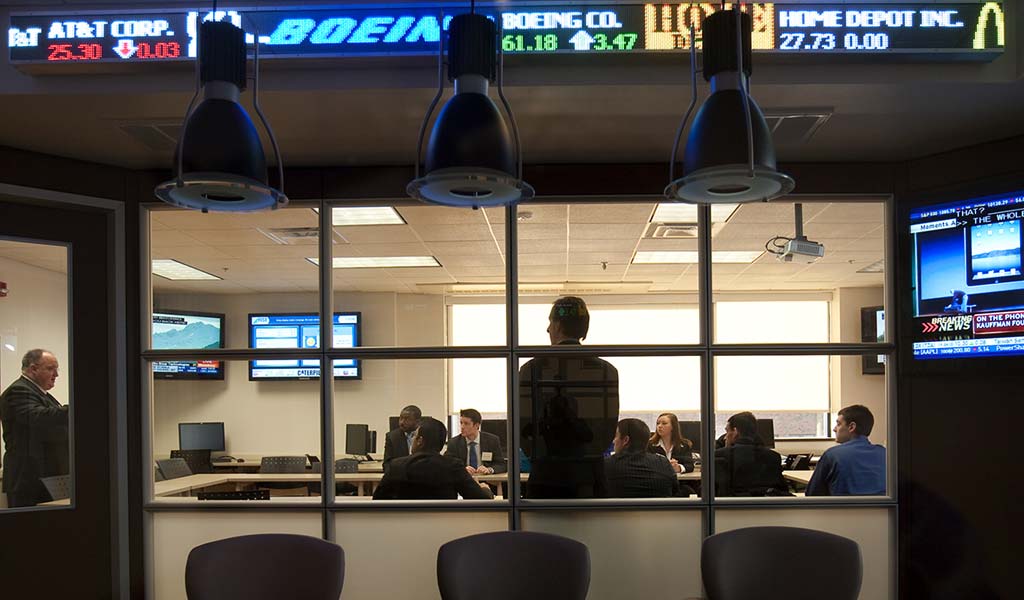 This lab feels like a real financial hub — so you can become well-versed in business operations and familiar with the latest financial info and technology:
Data wall with local news
Real-time stock info
Live electronic ticker tape
Real-time securities info
Soundproofed conference room
---
Food Innovation Design Lab (FIDL)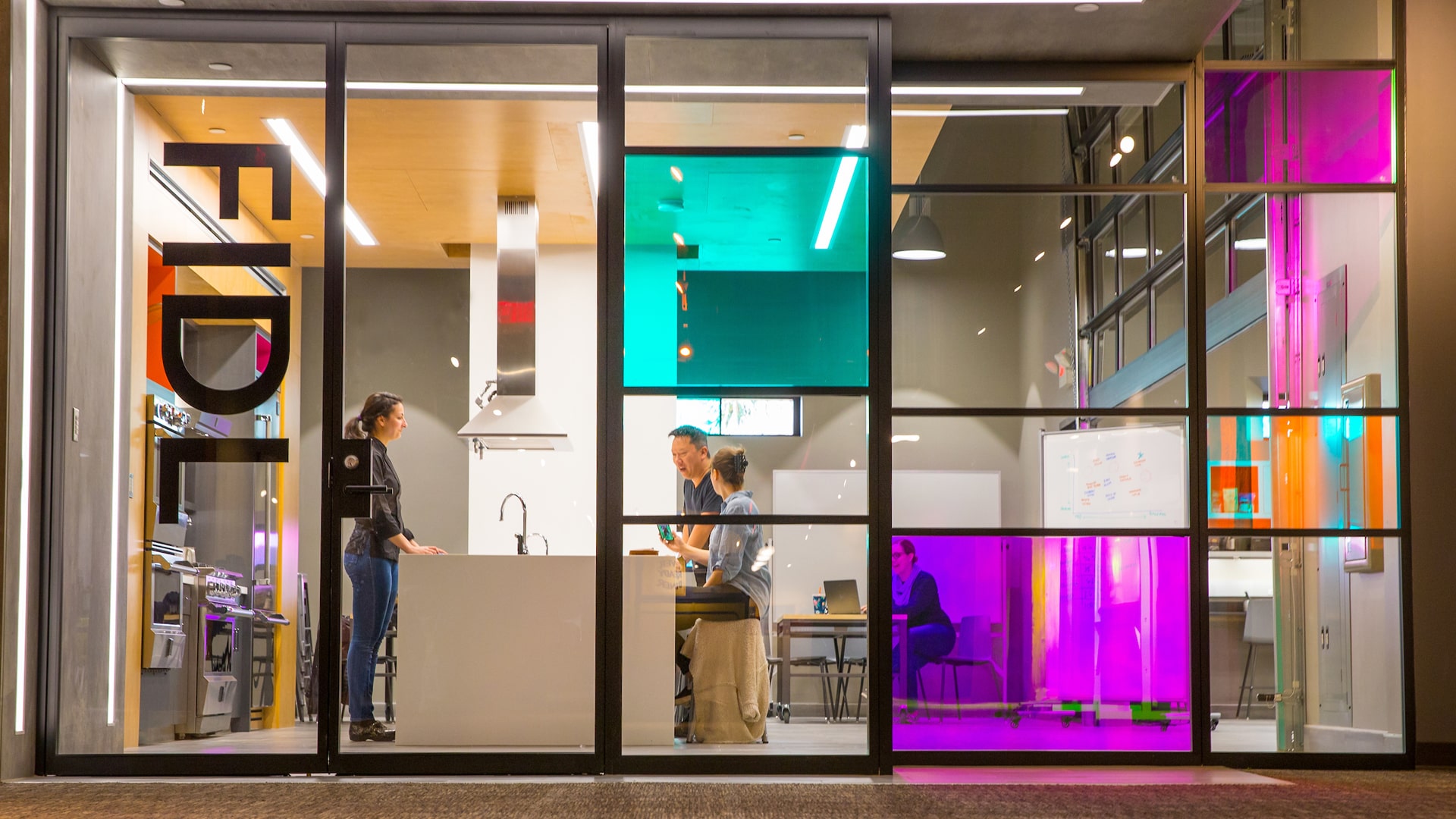 Ever wonder where the food you find in supermarket aisles comes from? JWU Providence's Food Innovation Design Lab (FIDL) is where culinary science & product development students develop their own market-ready foods from scratch.
Students research the market, study competitive products, source and price ingredients, and develop and refine a shelfstable recipe. The FIDL and the College of Food Innovation & Technology (CFIT) allow students to pursue emerging culinary careers like food package design, sustainable food sourcing and development, food safety and regulation, product development and much more.
Student teams gain a solid foundation in:
Commercial food product development
Research and market testing procedures
Sourcing and budgeting
Shelf-stability and flavor enhancement
Food marketing and supermarket positioning
---
John J. Bowen Center for Science & Innovation
The 3-story, 71,000-square-foot John J. Bowen Center for Science and Innovation is the home of John Hazen White College of Engineering & Design and the College of Arts & Sciences' biology program.
JWU's newest academic building has been designed and constructed to help prepare Johnson & Wales students for many high demand fields, including health care, computer science, and information technology.
The innovation lab allows students from any major to master the latest digital fabrication techniques. The robotics lab and state-of-the-art biology, chemistry and engineering labs are also housed in the Bowen Center. 
---
Occupational Therapy Labs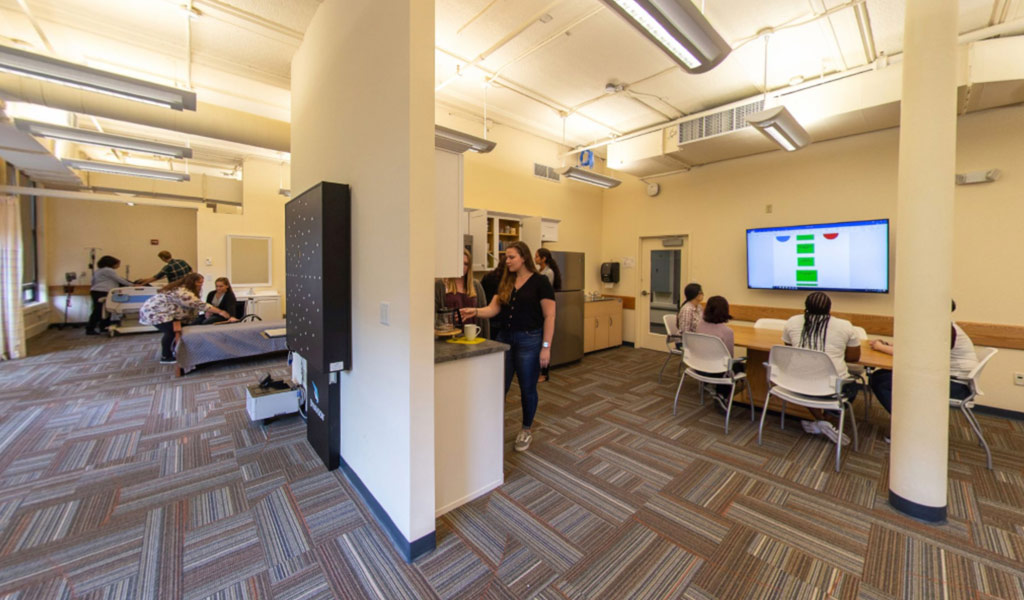 In 2019, JWU officially unveiled its entry-level Occupational Therapy Doctorate (OTD) — the first of its kind in Rhode Island — with a formal ribbon-cutting ceremony in the newly renovated Mathewson St. building that formerly housed the College of Engineering & Design.
The OTD lab spaces are expressly designed to prepare the next generation of OTs for a rapidly-evolving industry.
An Occupations Lab integrates a modified home setup — including a living room, kitchen and bathroom — with high-tech training equipment, including a testing device for balance assessment, a hospital bed area for practice interactions with an artificial-intelligence patient, and a 3-D printer for the production of splints and adapted equipment.
An Action Lab is designed for active work with clients with a variety of physical needs, such as mobility impairments. It also houses a driving simulator used to assess impairments in visual, cognitive and motor abilities that may limit driving ability and performance.
---
Physician Assistant Anatomy Lab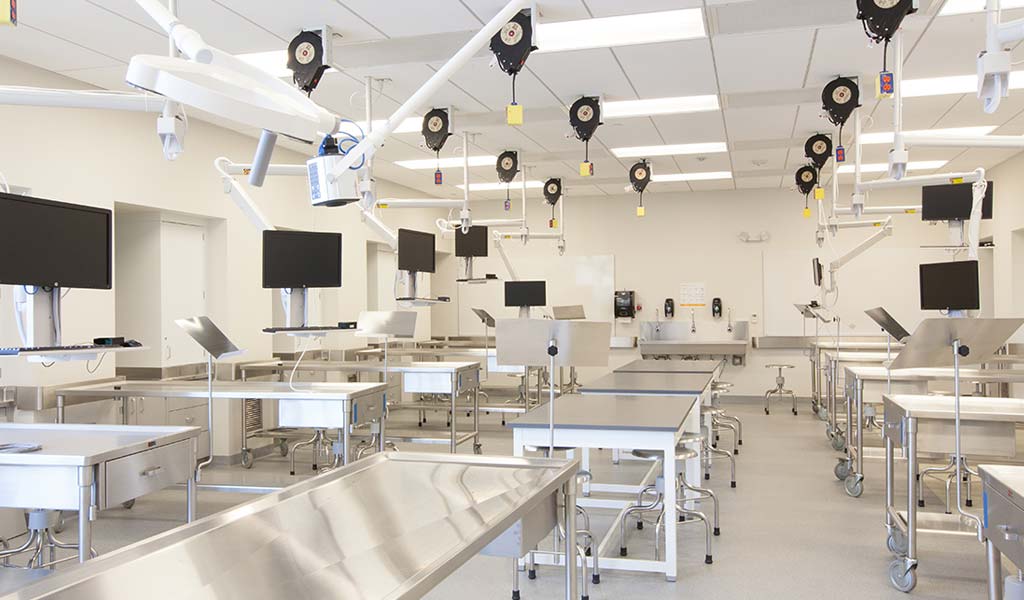 In the Providence Campus' cadaver-based anatomy lab, build an understanding of internal anatomy and the complexity and interdependence of body systems, as well as clinical skills associated with that body system.
The lab includes: 
12 dissection stations outfitted with e-study guides
Prosection area where students can closely observe detailed dissection performed by an experienced anatomist
Students can watch the prosection on TV monitors at each dissection station
How anatomy class is structured:
Students work in groups
4-5 students/station
Team leader runs the day's dissection
2 students dissect at a time while group members quiz each other on the week's material
Leaders rotate throughout the module (every student has a chance to lead)
Cadavers will be available for the entire year, enabling students to cycle through the major body systems
---
Charlotte
The Coop Teaching Garden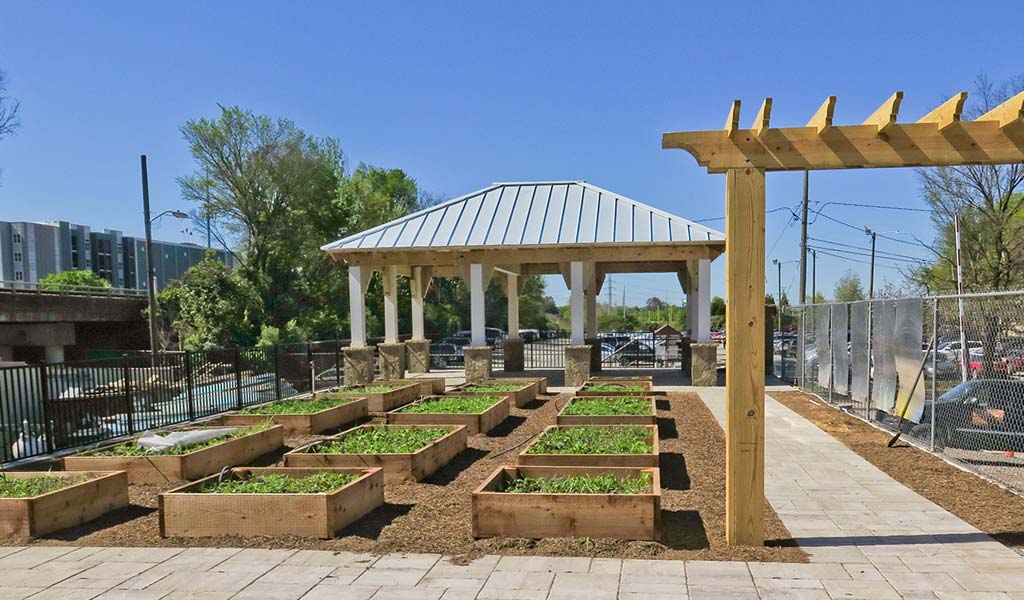 JWU Charlotte's urban garden designed to teach sustainable harvesting practices and connect students to farm-fresh produce.
Affectionately called The Coop, the garden is built, maintained and run entirely by students, with particular focus on:
Getting students directly involved in growing food and keeping honeybees
Teaching organic, sustainable urban gardening techniques
Linking JWU students to Charlotte farmers and growers
---
Fashion Merchandising Lab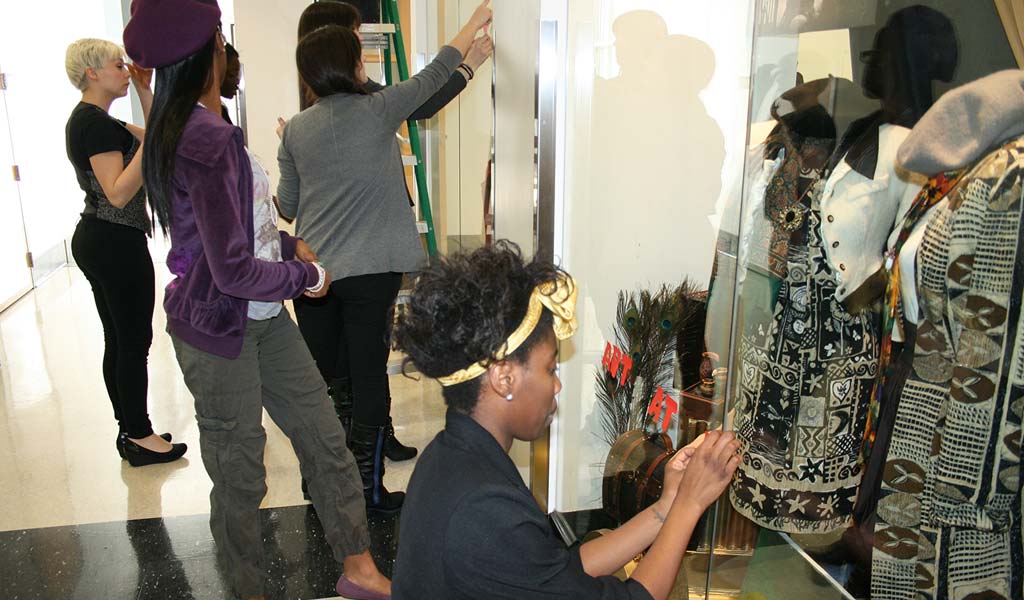 Learn the business of fashion. Gain exposure to fashion retail, advertising, buying and promotion in JWU Charlotte's fashion merchandising lab.
Study trends, style looks — and examine how consumer behavior affects market trends.
Meet buyers from companies like Banana Republic, Ann Klein and Perry Ellis — and build a strategic understanding of the fashion life-cycle from start to finish.
Learn:
Styling
Trends and international markets
Buying
Retail operations and B2B selling
Manufacturing categories
Marketing and advertising
---
Microbiology and Chemistry Laboratory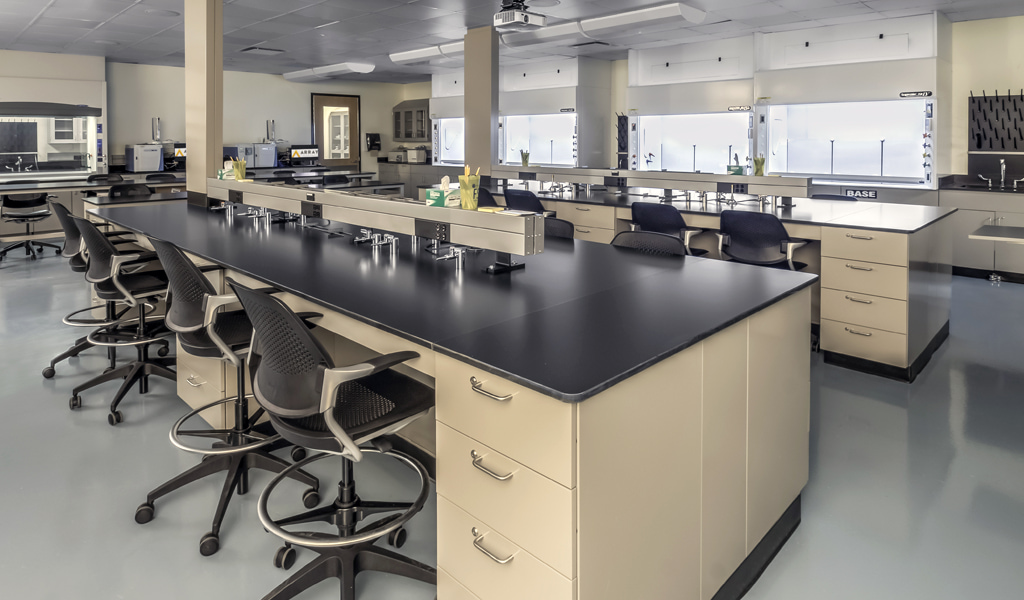 Use this lab to take Intro to General & Organic Chemistry, Introduction to Microbiology, and Principles of Food Microbiology, Food Chemistry and Fermentation Science.
The lab supports the Applied Food Science degree program. Study the nature of foods, the principles underlying food processing, and the development and improvement of foods for the consuming public.