Ready to get up from your desk? At Johnson & Wales, learn by DOING. Master the technology you will use in your career — and get ahead of the competition. Don't just study what you love — dive into our real-world learning environments, and DO IT.
Providence | North Miami | Denver | Charlotte
Providence
Center for Media Production (Opened Fall 2019)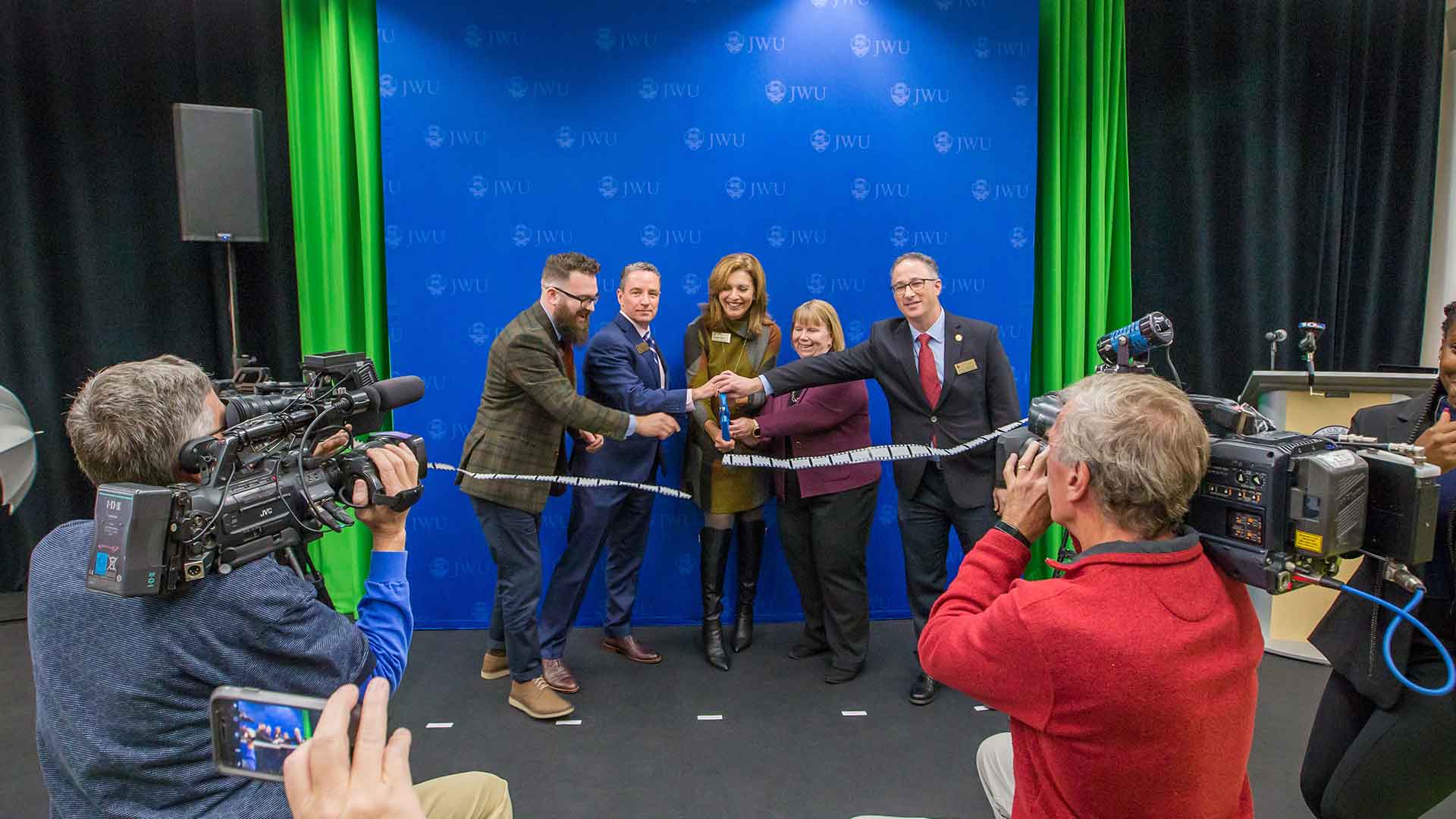 Read more about the official opening of the facility in Lights, Camera, Action! Welcome to JWU's Center for Media Production, which included Marie Bernardo-Sousa, LP.D., '92, President of the Providence Campus.
"Media is changing every day, and it is our responsibility to stay ahead and deliver a high quality, hands-on education," said Bernardo-Sousa. "We now have a foundation on which to build the Media & Communication Studies program, develop the skills of our students, and position them for success in any aspect of the industry they choose to pursue."
---
Delaware North SEEM Lab (Opened Fall 2019)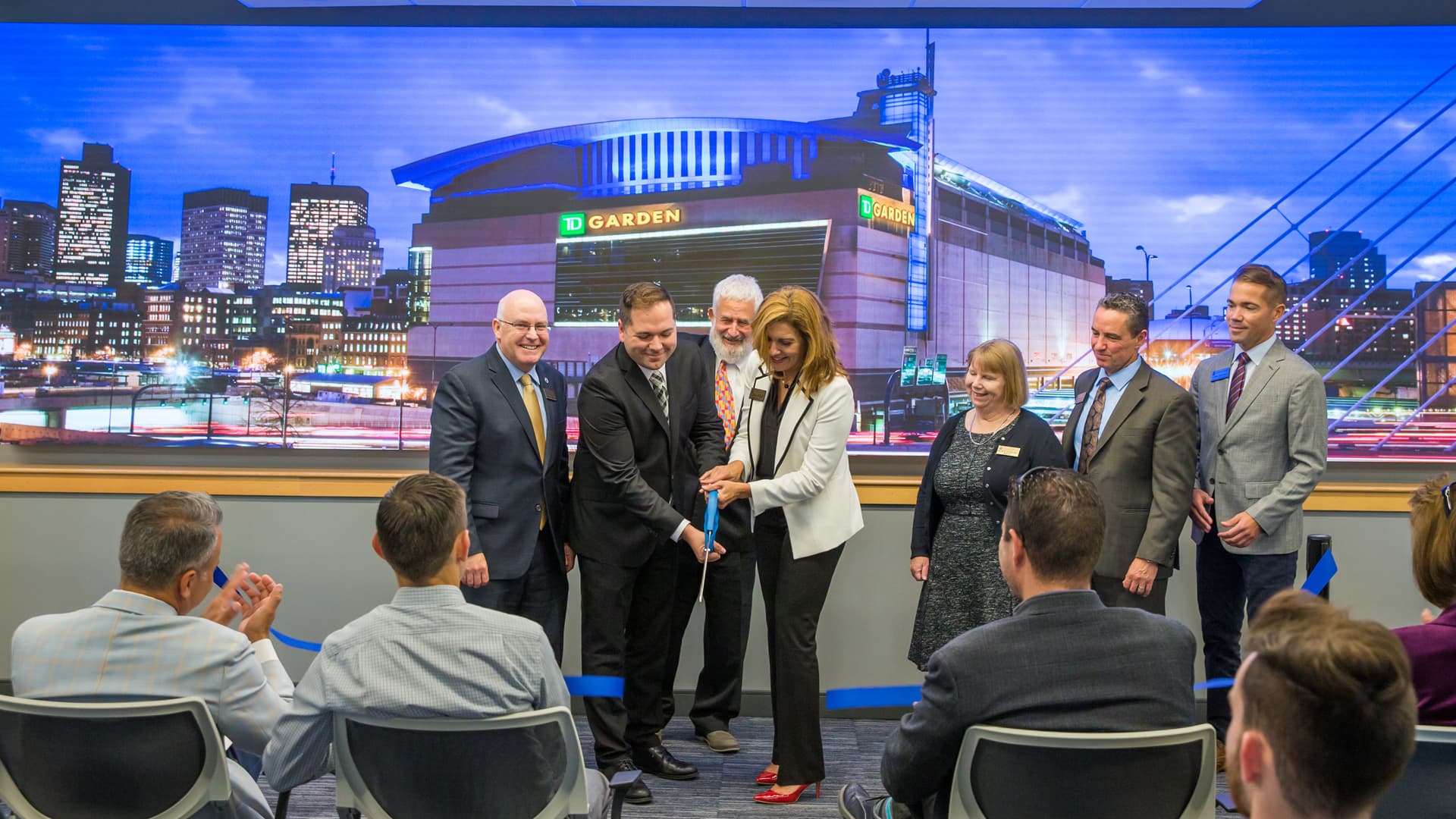 On Sept. 17, the Delaware North SEEM Lab opened officially with a ribbon-cutting ceremony:
"We are proud to add the Delaware North SEEM Lab to our educational facilities and solidify our position as the leader in the Sports, Entertainment and Event Management industry. To our dedicated faculty and staff, our ambitious students and the College of Hospitality Management — we share your excitement for this remarkable venue and all the opportunities it will offer." — Providence Campus President Marie Bernardo-Sousa LP.D., '92
---
Occupational Therapy Labs (Opened June 2019)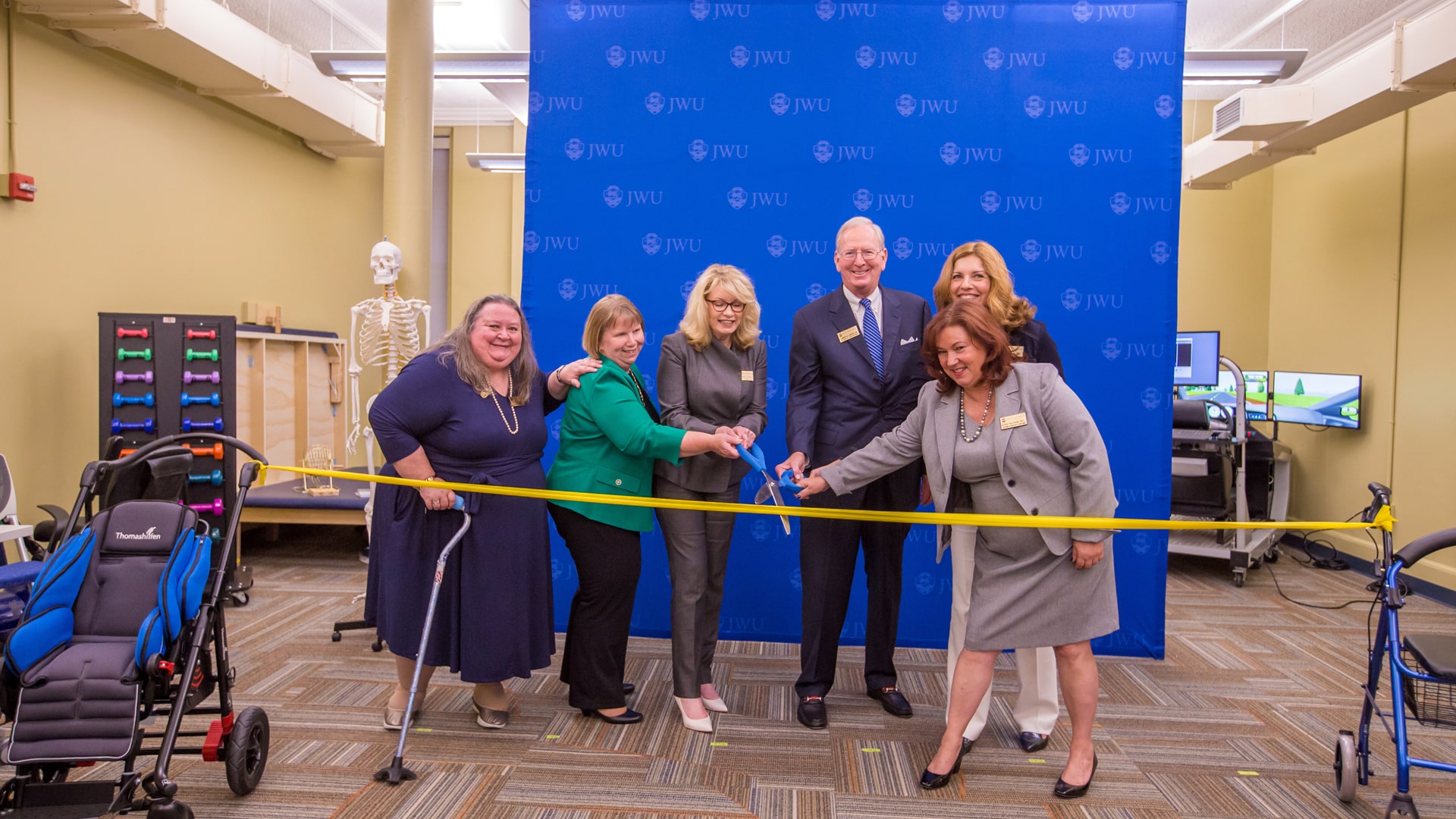 In June of 2019, JWU officially unveiled its new entry-level Occupational Therapy Doctorate (OTD) — the first of its kind in Rhode Island — with a formal ribbon-cutting ceremony in the newly renovated Mathewson St. building that formerly housed the College of Engineering & Design.
"[JWU's OTD program will] prepare the next generation of OTs for an industry that is rapidly evolving and exploring innovative ways to care for and increase the independence of individuals across the lifespan." — Chancellor Mim Runey, LP.D.
An Occupations Lab integrates a modified home setup — including a living room, kitchen and bathroom — with high-tech training equipment, including a testing device for balance assessment, a hospital bed area for practice interactions with an artificial-intelligence patient, and a 3-D printer for the production of splints and adapted equipment.
An Action Lab is designed for active work with clients with a variety of physical needs, such as mobility impairments. It also houses a driving simulator used to assess impairments in visual, cognitive and motor abilities that may limit driving ability and performance.
---
Equine Center
Located a short drive from Providence in Rehoboth, Mass., you'll find JWU's impressive Center for Equine Studies. Watch the video below for a unique and serene look at the center from the air:
For a look at the center from the ground, visit our Virtual Tour stop at the Center for Equine Studies.
---
Finance Center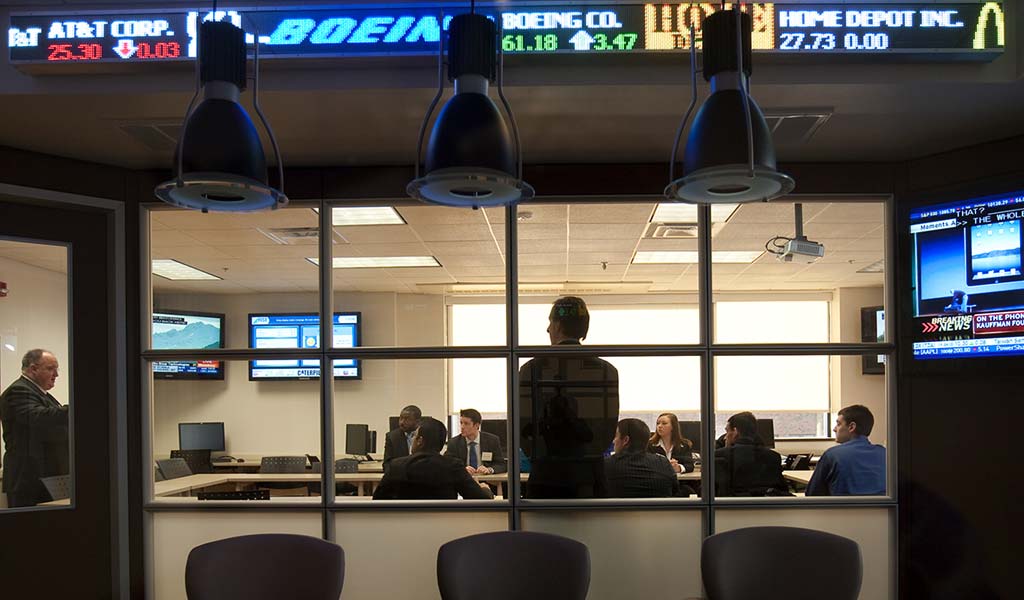 Prep for Wall Street at JWU
This lab feels like a real financial hub — so you can become well-versed in business operations and familiar with the latest financial info and technology:
Data wall with local news
Real-time stock info
Live electronic ticker tape
Real-time securities info
Soundproofed conference room
---
Criminal Justice Lab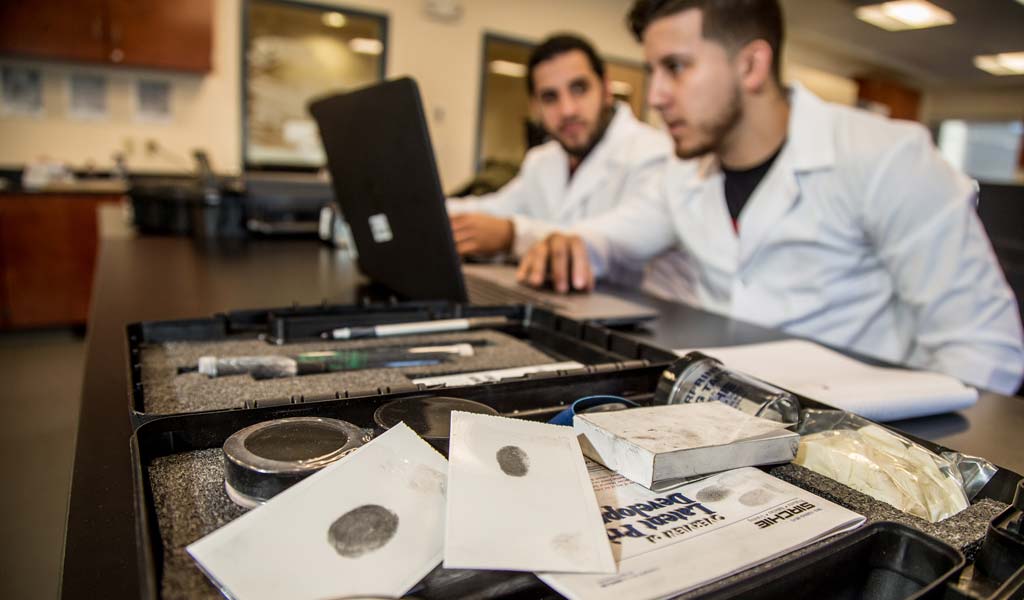 Solve with Science in Criminal Justice
Use criminal justice technology in our state-of-the-art labs. Learn:
Criminal procedure
Evidence collection
The scientific method
Forensic analysis and techniques
Process evidence, analyze data and conduct research using the latest techniques.
Dive into:
National security issues, including cyber-crimes and terrorism
Criminal law
Law enforcement procedures
Prep for career in law enforcement, including:
Local, state and federal police agencies
Court administration
Probation/parole officers
Corrections
Private security and loss prevention
Social services providers
---
Center for Physician Assistant Studies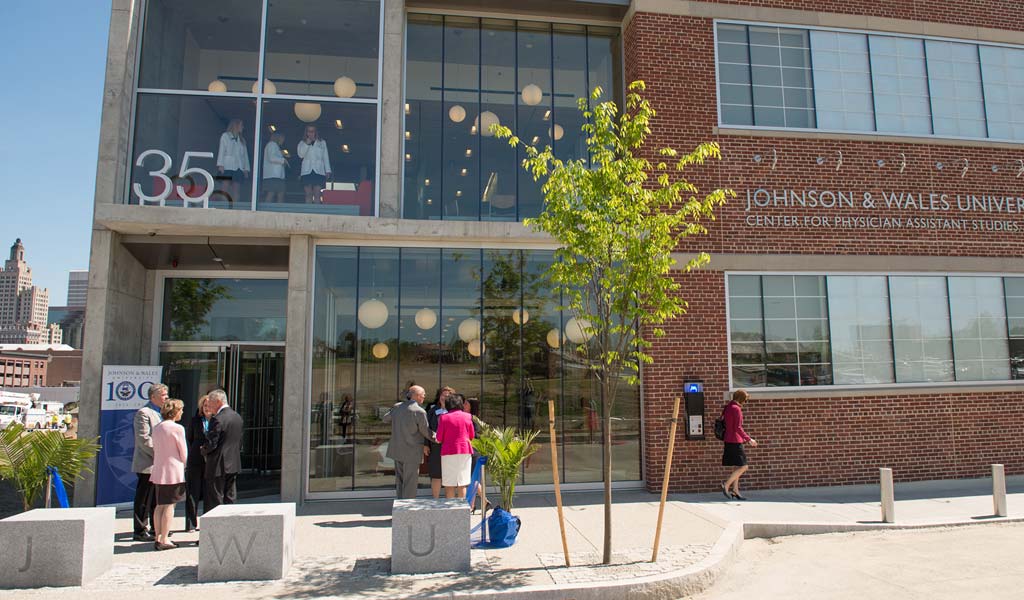 State-of-the-Art facility in Providence's Knowledge District
Our 18,000-sq. foot facility is designed to maximize information sharing, teamwork and collaboration between students, faculty and community colleagues, with:
Lecture halls with global teleconferencing capabilities
Active learning" classrooms that can be easily reconfigured for group work or lectures
Cadaver-based anatomy lab
Clinical practice center
Conference rooms, student lounges and study areas
Our building is dedicated to PA studies — meaning that you won't have to run from one classroom building to another during that busy first year. Instead, you'll be able to focus and learn without interruption, whether you're
Studying cardiovascular systems in the anatomy lab
Documenting cases in the clinical practice center
Attending virtual grand rounds in our lecture hall
The Center has been designed to transition seamlessly from day to night — from the locker room where you can stash your valuables to the communal kitchen for between-class refueling.
---
Physician Assistant Anatomy Lab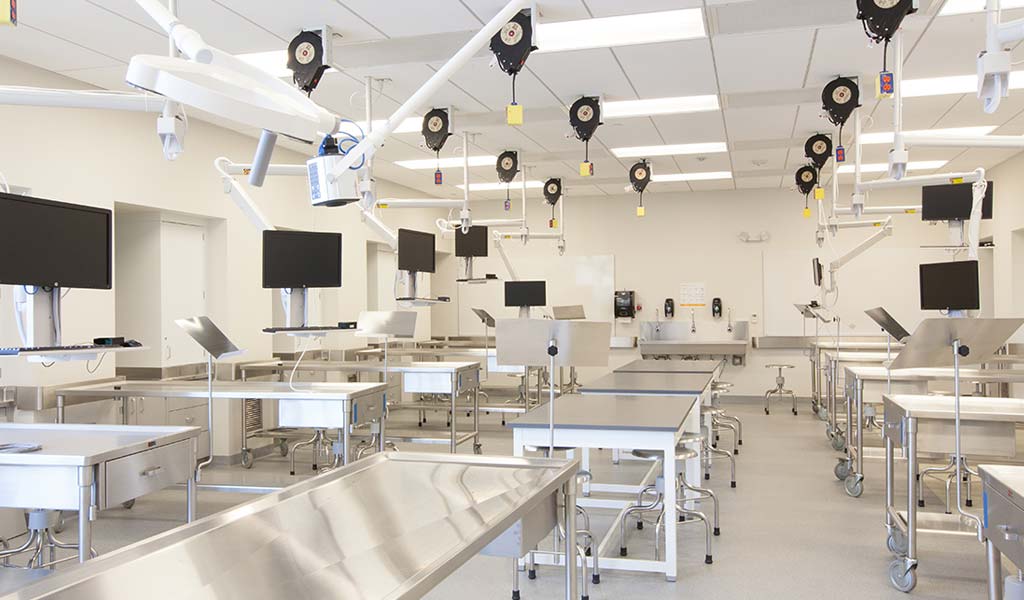 Hands-on Learning in a Clinical Setting
In the Providence Campus' cadaver-based anatomy lab, build an understanding of internal anatomy and the complexity and interdependence of body systems, as well as clinical skills associated with that body system.
How the lab is set up:
12 dissection stations outfitted with e-study guides
Prosection area where students can closely observe detailed dissection performed by an experienced anatomist
Students can watch the prosection on TV monitors at each dissection station
How anatomy class is structured:
Students work in groups
4-5 students/station
Team leader runs the day's dissection
2 students dissect at a time while group members quiz each other on the week's material
Leaders rotate throughout the module (every student has a chance to lead)
Cadavers will be available for the entire year, enabling students to cycle through the major body systems
---
Advertising Lab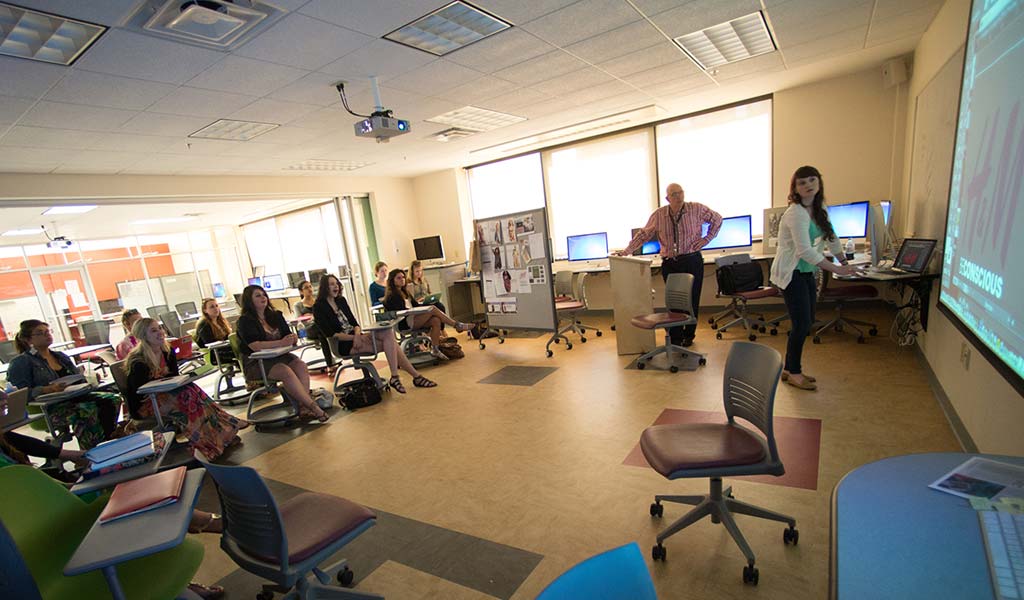 Launch Your Advertising Career
The secret to launching your advertising career? Work on real campaigns, BEFORE you graduate. Build your advertising portfolio with campaigns for real clients. Use the industry's latest tools in JWU's lab to:
Film ads
Record commercials using SoundBooth
Design campaigns with InDesign and PhotoShop
Brainstorm and test ideas
Collaborate with other students who are just as obsessed with advertising
---
Food Innovation Design Lab (FIDL)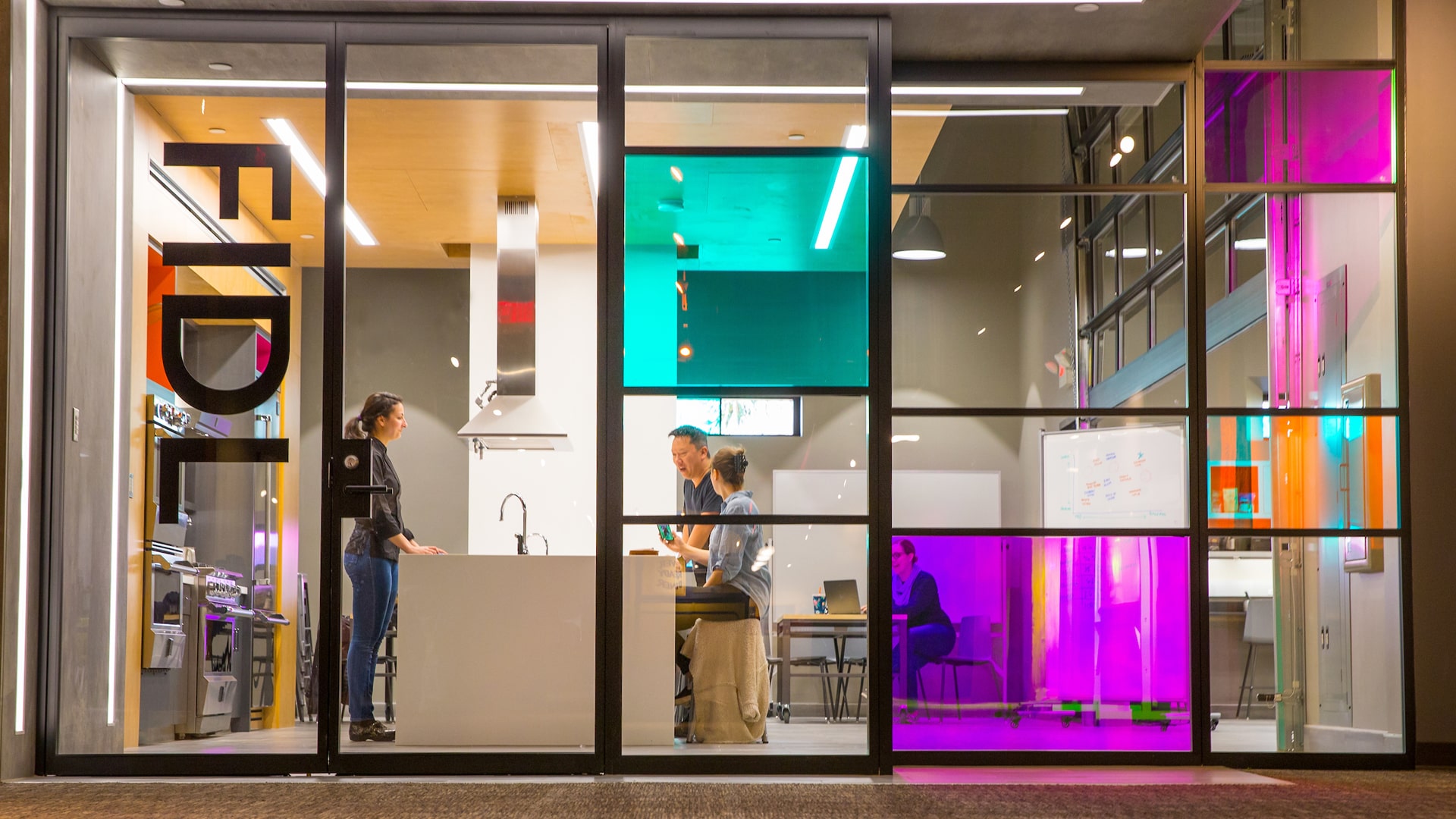 Creating Supermarket Ready Foods
JWU Providence's Food Innovation Design Lab (FIDL) is where culinary science & product development students develop their own market-ready foods.
The Challenge
Create, test-market and develop a commercial food product in 11 weeks.
Develop and design the Product
Groups of 4-5 seniors brainstorm a food product concept, then:



Research target market
Compare product against comparable items for flavor, price and health claims
Source and price ingredients
Refine shelf-stable recipe
Each group's product is taste-tested and refined — just like actual products being developed for market.
Gain a solid foundation in:
Commercial food product development
Research and market testing procedures
Sourcing and budgeting
Shelf-stability and flavor enhancement
Food marketing and supermarket positioning
---
Cuisinart Center for Culinary Excellence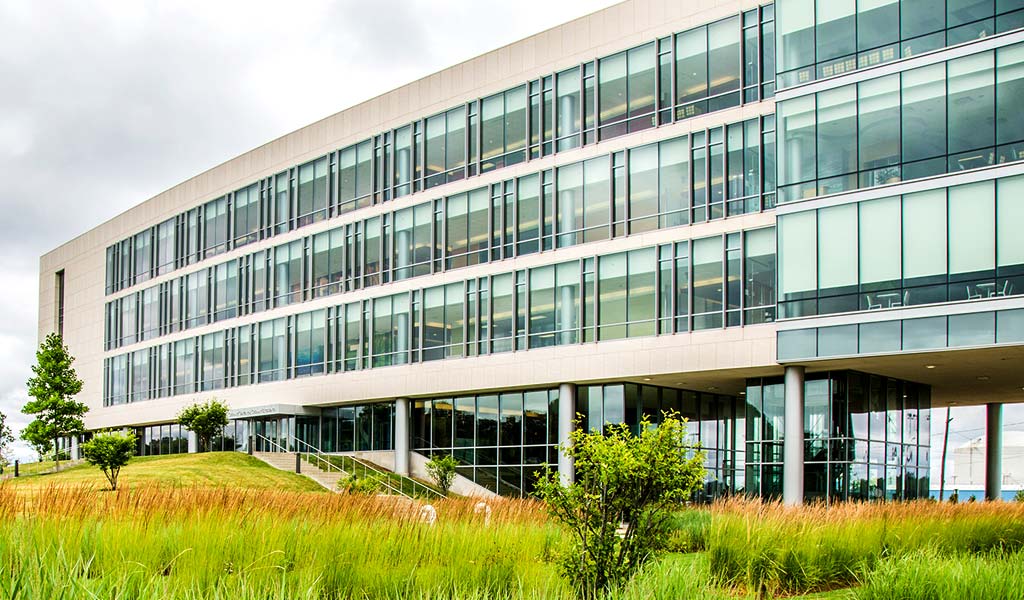 Master your Craft in Our World-Class Labs
Ready to learn the craft, science and business of culinary arts? Use cutting-edge equipment in a range of production environments at our Providence Campus, including:
30 Teaching labs and classrooms
9 Hot kitchens
3 Dining rooms
2 Garde manger
2 Bake shops
Artisan bread lab
7 Pastry and chocolate labs
2 Meat-cutting labs
Storeroom, shipping and receiving area
Oenology wine lab
Microbrewery
Mixology lab
LEED-certified Building
The CCCE also supports JWU's commitment to social responsibility — and has been Leadership in Energy and Environmental Design (LEED) certified.
LEED certification is a green rating system that encourages sustainable building and development practices.
---
John J. Bowen Center for Science & Innovation
Preparing Students for High-demand Tech and Health Care Jobs
Our newest academic building has been designed and constructed to help prepare Johnson & Wales students for many high demand fields, including health care, computer science, and information technology.
The 3-story, 71,000-square-foot John J. Bowen Center for Science and Innovation is the home of John Hazen White College of Engineering & Design and the College of Arts & Sciences' biology program.
Go to top
North Miami
Edible Garden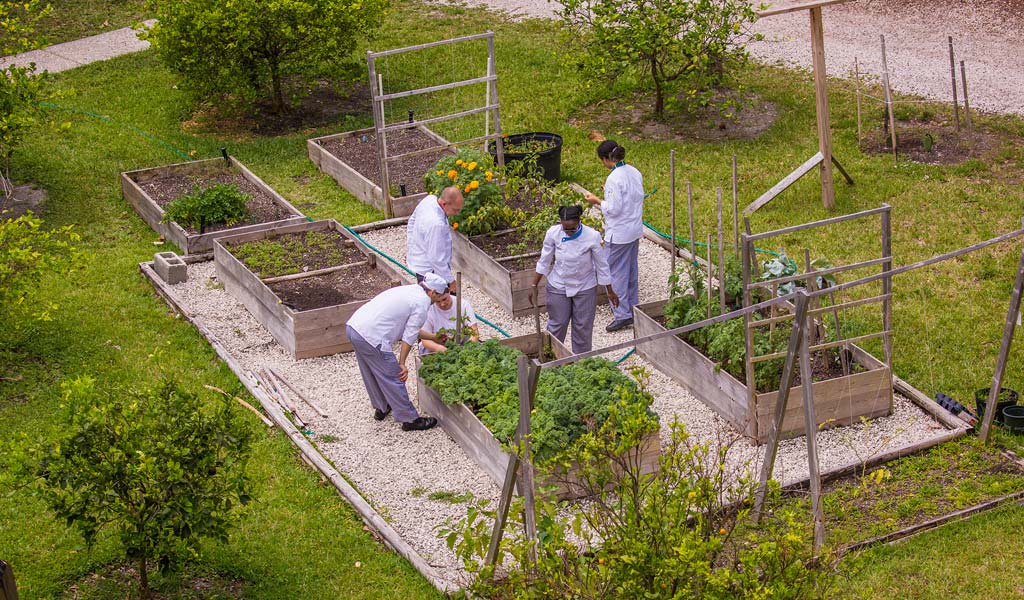 Edible Education in North Miami
Hidden behind the College of Culinary Arts at JWU's North Miami Campus is a lush oasis filled with more than 100 species of fruits, vegetables, herbs and edible flowers.
This space is a mini-farm and a teaching garden where culinary students not only learn about exotic species like jackfruit, açai palm, sweet edible bamboo, and apple banana, but gain an understanding of organic gardening and the growing cycle, all while boosting their culinary creativity.
Go to top
Denver
Centennial Hall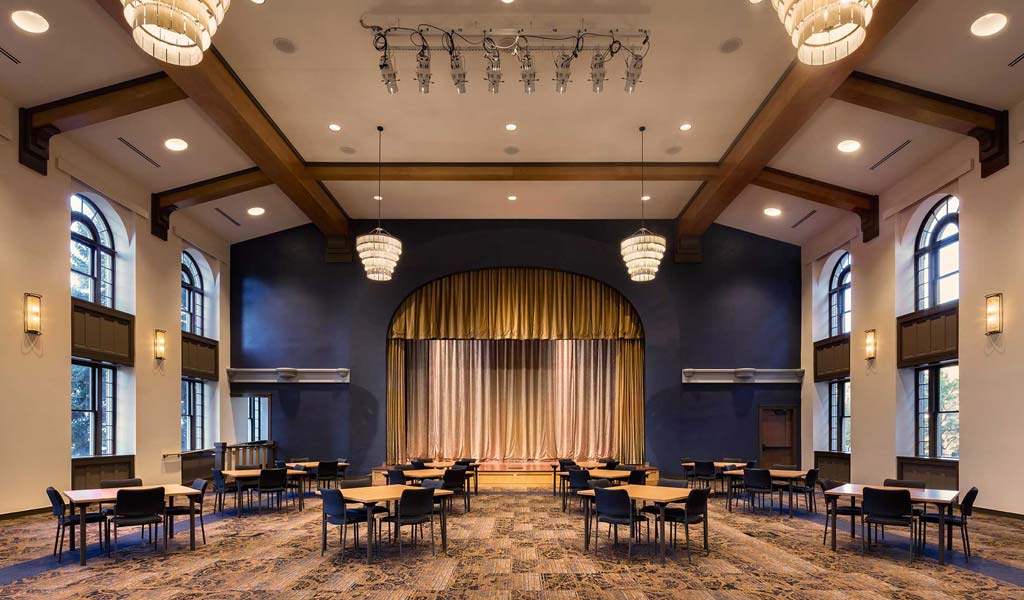 An Historic Building Turned Campus Hub
After more than 30 years of being shuttered and $17 million in renovations, Centennial Hall — which is listed on the National Register of Historic Places — has been transformed into the new heart and hub of JWU's Denver Campus.
Originally named Treat Hall, the building was built in 1886 for the Colorado Women's College. In 2000, JWU purchased the campus in the Park Hill neighborhood, but the building remained shuttered for more than 3 decades. The structure was renamed Centennial Hall in 2014 as an homage to Colorado, the Centennial State, and to JWU's centennial year.
The renovated Centennial Hall features:
classrooms
a café
faculty and administrative offices
student activity spaces
health and counseling services
a great hall that will be used for events
Many of the original finishes of Centennial Hall — including the original grand staircase and doors — have been preserved and/or repurposed to allow the building's grandeur to shine and flourish.
---
DiPasquale Teaching Garden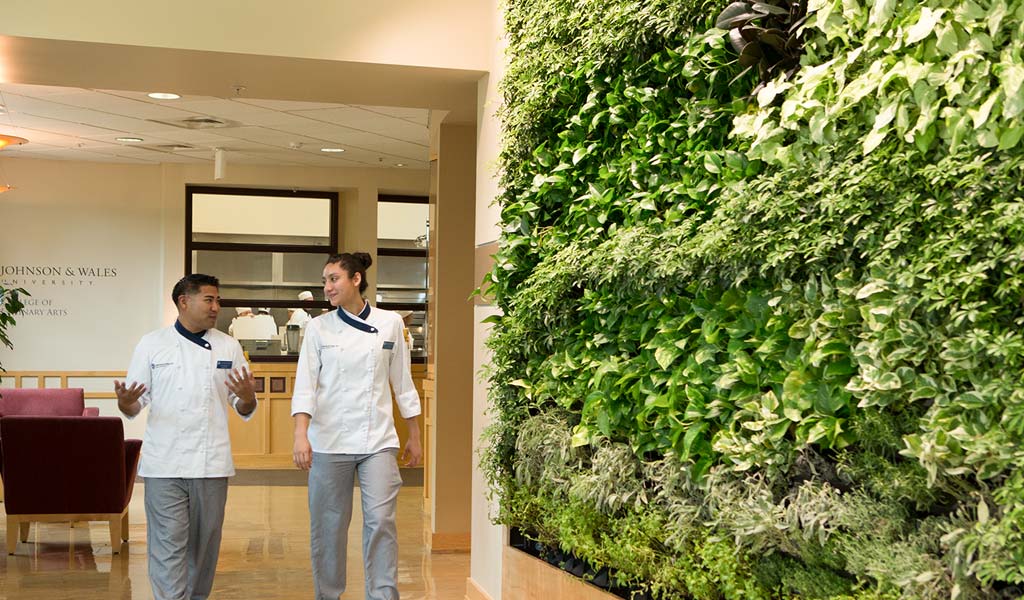 Teaching Sustainability
The Denver Campus' innovative new indoor vertical garden teaches the value of:
The farm-to-table movement
The link between food production and consumption
Sustainability and alternative food sources
The living wall of plants contains fresh herbs that can be cut and used in dishes that students are preparing that day.
The vertical garden was made possible by a generous gift from Larry and Jill DiPasquale, and their company, Epicurean Culinary Group.
---
Culinary Labs
Master your Craft in our World-Class Labs
Ready to learn the craft, science and business of culinary arts? Use cutting-edge equipment in a range of production environments at our Denver Campus, including:
9 professional-grade hot kitchens
2 pastry labs
2 teaching dining rooms
Bakery and bread lab
Beverage lab
Food science lab
Meat-cutting lab
Microbiology lab
Culinary Nutrition R&D Lab
Food science, flavor technology and nutrition intersect in the Research and Development (R&D) lab, where students create, test-market and develop their own supermarket-ready food products.
Go to top
Charlotte
The Coop Teaching Garden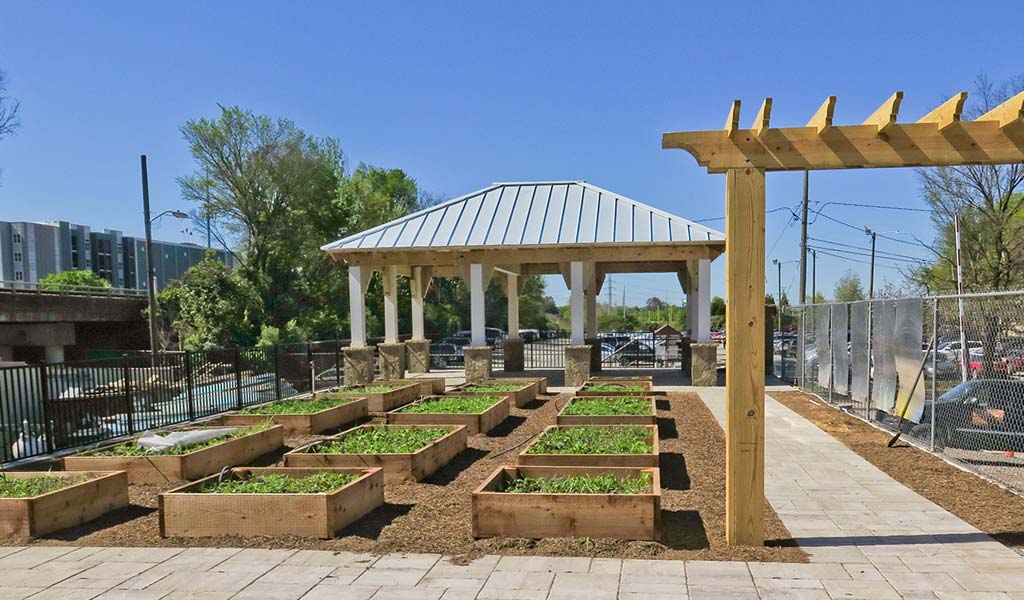 Farm-to-Table Gardening in Charlotte
JWU Charlotte's urban garden designed to teach sustainable harvesting practices and connect students to farm-fresh produce.
Student-Run Garden
Affectionately called The Coop, the garden is built, maintained and run entirely by students, with particular focus on:
Getting students directly involved in growing food and keeping honeybees
Teaching organic, sustainable urban gardening techniques
Linking JWU students to Charlotte farmers and growers
---
Fashion Merchandising Lab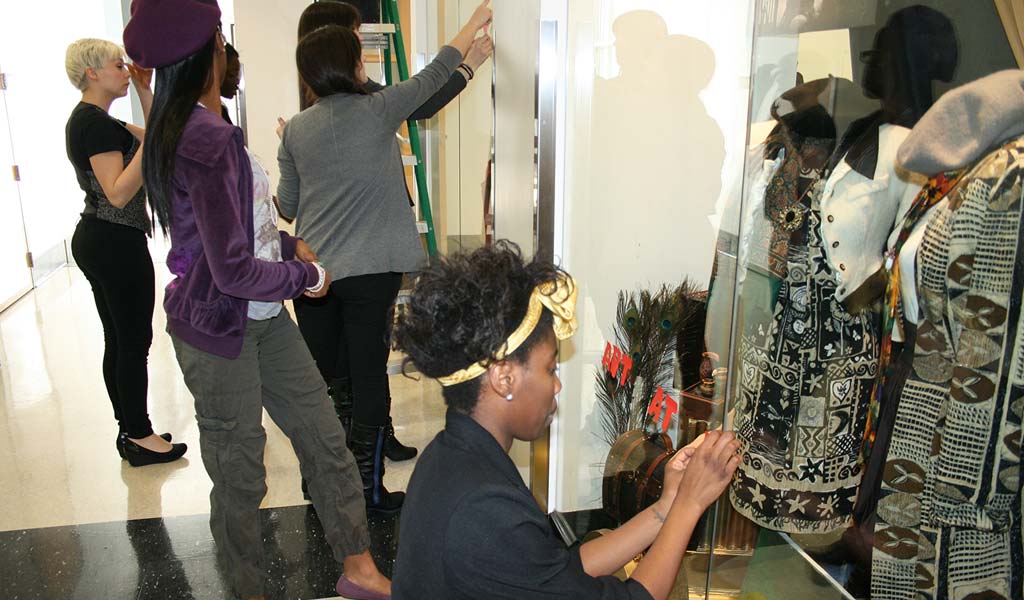 Learn the Business of Fashion
Gain exposure to fashion retail, advertising, buying and promotion in JWU Charlotte's fashion merchandising lab.
Study trends, style looks — and examine how consumer behavior affects market trends.
Meet buyers from companies like Banana Republic, Ann Klein and Perry Ellis — and build a strategic understanding of the fashion life-cycle from start to finish.
Learn:
Styling
Trends and international markets
Buying
Retail operations and B2B selling
Manufacturing categories
Marketing and advertising
---
Microbiology and Chemistry Laboratory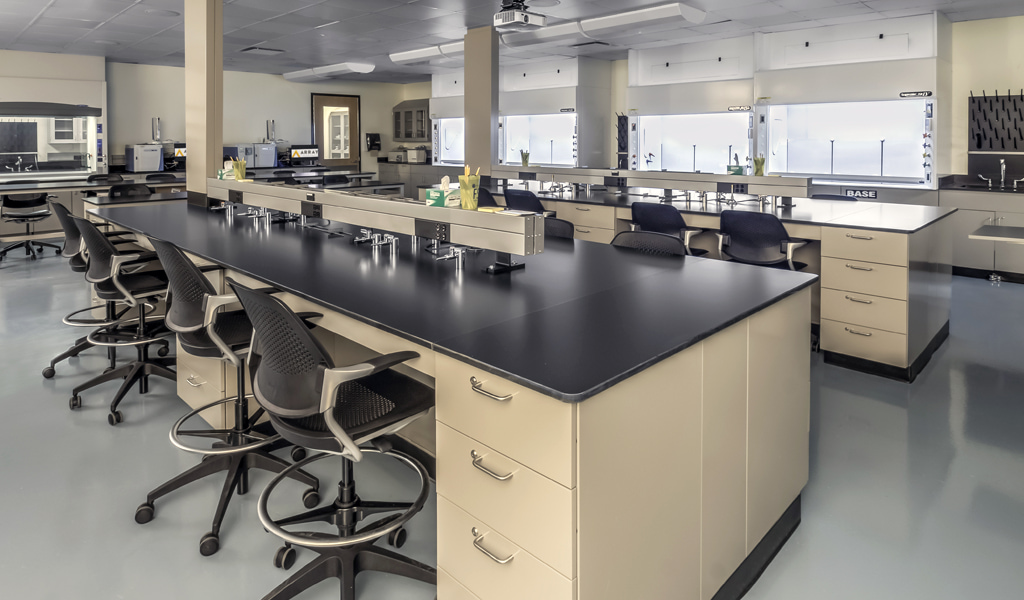 Use this lab to take Intro to General & Organic Chemistry, Introduction to Microbiology, and Principles of Food Microbiology, Food Chemistry and Fermentation Science.
The lab supports our Applied Food Science, Innovation & Technology degree program. Study the nature of foods, the principles underlying food processing, and the development and improvement of foods for the consuming public.
Go to top